Fisheries Management Scotland is actively involved across a huge range of policy areas related to the protection and conservation of fish and fisheries across Scotland. This page gives an indication of the range of issues covered. Please note that  these are listed in alphabetical  order, and are not listed by priority. See links to more detailed information on our current priorities.
Beaver Reintroductions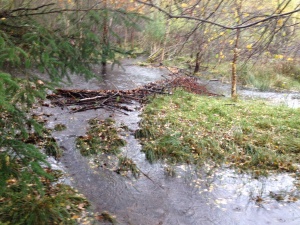 November 2016 saw the Cabinet Secretary for Environment, Climate Change and Land Reform announce that she is minded to allow beavers to remain in Scotland following completion of a Habitats Regulations Assessment and consideration of the need for a Strategic Environmental Assessment.
Fisheries Management Scotland were members of the Beaver Salmonid Working Group (BSWG) which was established in 2009 as a sub-group to the National Species Reintroduction Forum, to consider the potential impacts of beaver activity on Atlantic salmon and brown trout. The final report of the BSWG was published in January 2015.
Our current focus is on:
Ensuring that a robust beaver management plan is developed which takes full account of the needs of migratory fish.
Understanding the developing beaver licencing system for management
Helping to ensure that no further illegal introductions occur in Scotland
SNH are currently trialling several techniques such as dam notching and flow devises to regulate the water level of beaver dams. In many cases, it will be possible to remove or notch dams without requiring a licence. This is vital as the beaver-salmon working group was clear that dams associated with culverts and fish passes would need swift action.
It may also be possible for fisheries management staff to be trained to spot signed of beaver activity outside the natural range of the current populations to detect further illegal releases of beavers across Scotland. Scottish Government and SH are also reviewing the law to ensure that such activity can be adequately enforced. We await further clarity on the status of any future illegal releases and crucially, how such management will be resourced.
Catch and Release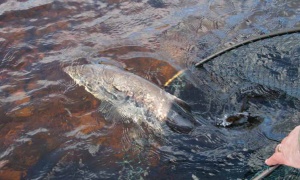 District Salmon Fishery Boards and Fishery Trusts are involved in a number of means of increasing salmon and sea trout populations including habitat maintenance and enhancement, mitigation of diffuse pollution, removal of in-stream barriers to migration, removal of invasive non-native species and stocking programmes. However, the simplest means for anglers and ghillies to make a positive and significant contribution to increasing fish populations is catch and release.
The proportion of the rod catch accounted for by catch and release has increased dramatically since 1994, when such information was first recorded in Scotland. Numerous angling and radio-tracking studies have demonstrated high survival rates and successful spawning for salmon released after capture – up to 100% under certain conditions. However, the longer a fish is out of water, or poorly handled, the less chance it has of survival.
Scotland's wild fisheries organisations have combined with their counterparts south of the border to produce a new angler's guide on Catch and Release for Salmon. The guide's primary purpose is to provide practical advice and guidance to anglers to maximise the survival of salmon which anglers choose to release for conservation purposes.
More recently the Atlantic Salmon Federation have produced an excellent video demonstrating techniques of catch and release. This video can be viewed below (Copyright Atlantic Salmon Federation):
Diffuse Pollution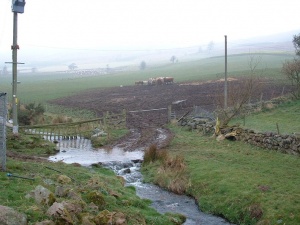 Diffuse pollution is the release of potential pollutants from a range of activities that individually may have no effect on the water environment, but at the scale of a catchment can have a significant impact (i.e. reduction in water quality, decrease in wildlife, etc.). Diffuse sources of pollution include run-off from roads, houses and commercial areas, run-off from farmland, and seepage into groundwater from developed landscapes of all kinds.
Rural diffuse pollution arises from land use activities such as livestock grazing, cultivation of land to grow crops and from forestry operations. Such activities can give rise to a release of potential pollutants the pressures and impacts of which include: eutrophication; loss of biodiversity; silting of fish spawning grounds; and impacts on human health through drinking water or bathing water pollution. The pollutants of concern include the nutrients nitrogen and phosphorus, sediment, pesticides, biodegradable substances, ammonia and micro-organisms.
Fisheries Management Scotland is a member of the Diffuse Pollution Management Advisory Group, a partnership that focuses on improving Scotland's water environment by reducing rural diffuse pollution. The main purpose of this advisory group is to: help create a robust governance, decision-making and coordination framework for the effective delivery of rural diffuse pollution RBMP actions in Scotland; and ensure input from a cross section of rural, environmental and biodiversity interests.
A major output from DPMAG is the rural diffuse pollution plan for Scotland which is designed to ensure that the key stakeholders in Scotland work in a coordinated way to reduce diffuse pollution from rural sources.
Fisheries Enforcement
Fish Movement/Stocking
DSFBs are statutory regulators and written consent must be obtained from the relevant Board prior to the artificial stocking of salmon and sea trout in the Board's district. Fisheries Management Scotland, in conjunction with RAFTS, have produced guidelines to assist Boards in this regulatory function; hatcheries and restocking projects can be effective management actions if carried out in the appropriate circumstances. Inappropriate stocking practice can be ineffective and costly at best, and at worst positively damaging to native stocks and sub-stocks of salmon. This is becoming more evident as our understanding deepens in relation to the genetic structures of salmon. The guidelines are designed to assist Boards in the decision making process.
Hydro Electricity
Invasive non-native species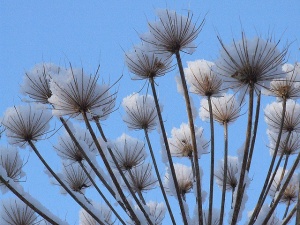 Invasive non-native species and fish diseases damage our environment, the economy, our health and the way we live. Non-native species have long been introduced and used as ornamental plants or pets and only a small minority of them are or will become invasive. However, the threat from invasive species is growing at an increasing rate assisted by climate change, pollution and habitat disturbance. They are now recognised as the greatest threat to biodiversity next to habitat destruction and they threaten our native plants, animals and habitats.
More information on invasive non-native species.
Learn more about how to help stop the spread of invasive plants and animals in British waters via the 'check, clean, dry' campaign.
Marine Renewables
The main concerns with regard to the effects of marine renewables on migratory salmonids are the effects of noise during construction and operation, the effects of electro-magnetic fields (EMFs) during operation and from associated cabling and potential of some forms of sub-sea devices to inflict physical damage on fish. The potential effects of these issues on migratory salmonids must be considered in the light of the considerable uncertainties regarding the behaviour and migratory routes of these fish.
Fisheries Management Scotland works with Marine Scotland, Marine Scotland Science, SNH, The Crown Estate and the renewables industry to find the best way to fill these knowledge gaps in order that proper assessments of the potential impacts of proposed schemes on wild salmonids can be made.
Fisheries Management Scotland are members of the Diadromous Fish Specialist Receptor Group which  is concerned with evidence gaps related to the health, distribution and impacts on Diadromous fish. This is part of the Scottish Offshore Renewables Research Framework (SpORRAn) designed to support collaborative and co-ordinated environmental and socio-economic research to facilitate the sustainable development of the Offshore Renewable sector in Scotland.
It is vital that adequate resources are made available to this work, in order that these key questions can be answered, in a robust and timeous manner. This would allow migratory fish interests to approach the consenting process in the knowledge that a strategy is in place to address the legitimate concerns relating to possible negative interactions resulting from the construction and on-going operation of these developments.
Predation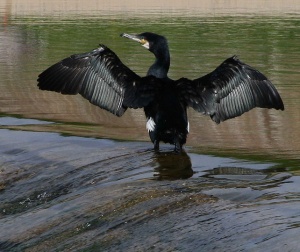 A variety of birds and animals can cause serious damage to fisheries. The law recognises this and permits licences to be granted to control piscivorous birds and seals. Licences to shoot seals are granted under the Marine (Scotland) Act 2010. Control of piscivorous birds is determined under the Wildlife and Countryside Act 1981.
Crucial to granting of a licence to control piscivorous birds is the gathering of evidence to demonstrate 'serious damage' with which to support licence applications. Fisheries Management Scotland supports its member Boards and Trusts in the collection of the relevant evidence. Experience shows that predation can be particularly high at certain times, for example during the seaward migration of smolts in Spring. By this stage, young salmon preparing for the marine environment have left their natal streams and are effectively 'irreplaceable'. It is important therefore that predation 'bottlenecks' such as these can be dealt with through appropriate, evidence based licensing.
River Basin Management Planning
River basin management planning is about protecting and improving Scotland's water environment in a way that balances costs and benefits to the environment, society and economy. The second edition of the Scotland river basin plan and Solway-Tweed river basin plan are now available.
Much of the water environment in Scotland is already in good condition. The water bodies and protected areas that are not in good condition are affected by impacts on their water quality, physical condition, water flows and levels, and accessibility for  fish migration, or by the impact of invasive non-native species on their aquatic plant and animal communities.
Fisheries Management Scotland is a member of The National Advisory Group (NAG), which advises on and supports the development of river basin planning in Scotland.
Salmon Farming
Statutory Conservation Measures
The Scottish Government has introduced a range of measures designed to improve the conservation status of salmon by managing the pressure of exploitation through fishing within Scotland's domestic waters. Such measures should be viewed in conjunction with other management activities being undertaken at a local level in the interests of conservation.
Fisheries Management Scotland is a member of the Salmon Liaison Group, which was created  to steer the development of the methodology behind the conservation status system. A number of technical working groups have also been created which will be overseen by this primary group.
Our current focus is:
To influence the further refinement of the model to ensure the outputs are as accurate as possible
To ensure that the model and resulting categorisations are understood and well communicated
To explore alterations to spring conservation measures in accordance with local needs and information
Wild Fisheries Reform
Wind Farm Developments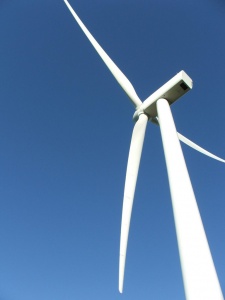 Terrestrial windfarm developments can have the potential to impact sensitive parts of river catchments for migratory and non-migratory fish species. Most wind farm developments are now large scale industrial projects often taking place in fragile upland landscapes and ecologies that require a full assessment of the risks associated with such projects. Not only do the turbine bases require a considerable amount of excavation but there also tends to be extensive road building and river crossings required to build and service wind farm developments. Risks associated with such projects include:
Impacts on hydrology and habitat during construction due to large scale excavation in fragile habitats
Extensive road building with accompany culverting, drainage, run off and sedimentation issues
Possible long term impacts on the hydrology in the catchment
Impacts on fish behaviour relating to turbine movement
Impacts relating to transit of high voltage cabling
Large scale terrestrial wind farms have been built in important river catchments with little or no observable impact on either water quality, quantity or fish populations. Equally, there are have been examples of catastrophic failure of wind farm developments (Derry Bran – Republic of Ireland) and also significant water quality impacts during construction – particularly during periods of high run off. There is therefore potential for considerable long and short term damage to the freshwater environment. By deploying a proper risk assessment, appropriate construction methods and good contractor supervision, these risks can be reduced to manageable levels.