The need to understand the migration patterns of our west-coast salmon, to help protect them from elevated sea lice levels or marine renewable developments, has long been recognised. We now have an opportunity to stop talking about it and get answers. For the sake of our salmon and seatrout, we cannot afford to delay.
Our seas are a shared space and we believe that protecting and safeguarding our iconic Atlantic salmon and sea trout is the responsibility of all users of the environment, including existing and proposed aquaculture developments. Without robust evidence it is impossible to plan aquaculture or marine renewable developments in a fully informed and sustainable manner for the protection of wild fish. The need to collect this vital information is understood by planners, regulators, wild fisheries interests and the fish farming sector.
Successive Scottish Parliament inquiries have made it clear that the status quo, in terms of regulation and enforcement, is not acceptable.
The Environment, Climate Change and Land Reform Committee considered that to mitigate the risk of transfer of sea lice, fish farms should be located away from salmonid migration routes. The Rural Economy & Connectivity Committee shared this view and recommended that this shift should be immediate and proactive.
The Salmon Interactions Working Group was established to make recommendations for a future approach to managing interactions between wild and farmed fish. It completed its work in May 2020. Crucially, the report included a recommendation that a mandatory licence condition should apply to all new and existing farms to contribute to research to understand the migratory distributions of our wild salmon and sea trout. This was part of a suite of recommendations to create a properly designed, reformed regulatory regime.
For a small number of salmon farms, contributing to such work is already a condition of planning consent, due to engagement in the planning process by District Salmon Fishery Boards and Fisheries Trusts, supported by Fisheries Management Scotland.
So, the Atlantic Salmon Trust, Fisheries Management Scotland and Marine Scotland Science have developed a project which will allow us to understand the marine migratory distribution of Atlantic salmon. Our sole purpose is to provide urgent information which will contribute to our efforts to save our wild fish and ensure speculation is replaced with evidence.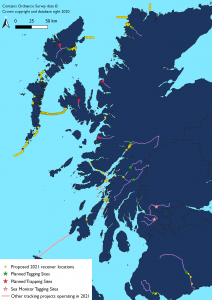 The project will be governed and managed by Atlantic Salmon Trust, Fisheries Management Scotland and Marine Scotland Science. This governance structure will ensure an independent scientific approach and oversee reporting of the findings.
The delivery of the work, and the collection and analysis of the data, will be supported by Glasgow University and the local fishery boards and trusts. This project could not proceed without their significant input and expertise. It was anticipated that the project would proceed in 2020, but due to the ongoing situation with COVID-19, the project was postponed until spring 2021.
The policy drivers behind this work arise from concerns about the impact of sea lice from fish farms on wild migratory salmon and sea trout. Therefore, we are strongly of the view that the aquaculture industry should contribute to this work. This principle was agreed in the recommendations of the Salmon Interactions Working Group and is consistent with our long-standing position, that we wish to see investment of a proportion of any profits generated by the fish farming industry into the protection and improvement of local salmon and sea trout populations and fisheries. This is no different to the approach adopted for wind farm developments to ensure that those profiting from the use of our marine environment contribute to the protection of that environment and the species which rely on it.
In advance of changes to the regulatory system, including licence requirements to contribute to such work (see above), we have an opportunity to move this important project forward. The information arising from this work will feed directly into the spatial planning framework now under development by Scottish regulators.
The location of receivers and rivers from which salmon smolts will be tagged is set out above. Once the funding of the project was been finalised, information on the cost profile in relation to this work will be published on the Atlantic Salmon Trust website.
Fisheries Management Scotland are committed to ensuring that the recommendations of the Parliamentary Committees and the Salmon Interactions Working Group are delivered in full. We are working actively to ensure that these recommendations are taken forward as soon as possible to protect our wild fish. This is one part of that process.
Our goal is to promote and ensure the best evidence-based fisheries management for the conservation of Scotland's wild salmon and native freshwater fish. The West Coast Tracking Programme is an important and substantive project which will provide vital information aimed at protecting our wild salmon, in line with this objective.
We are looking forward to delivering the results as quickly as possible for the sake of our precious wild fish and all those who treasure them.
Related Pages
Salmon Interactions Working Group
Environmental Management Plans