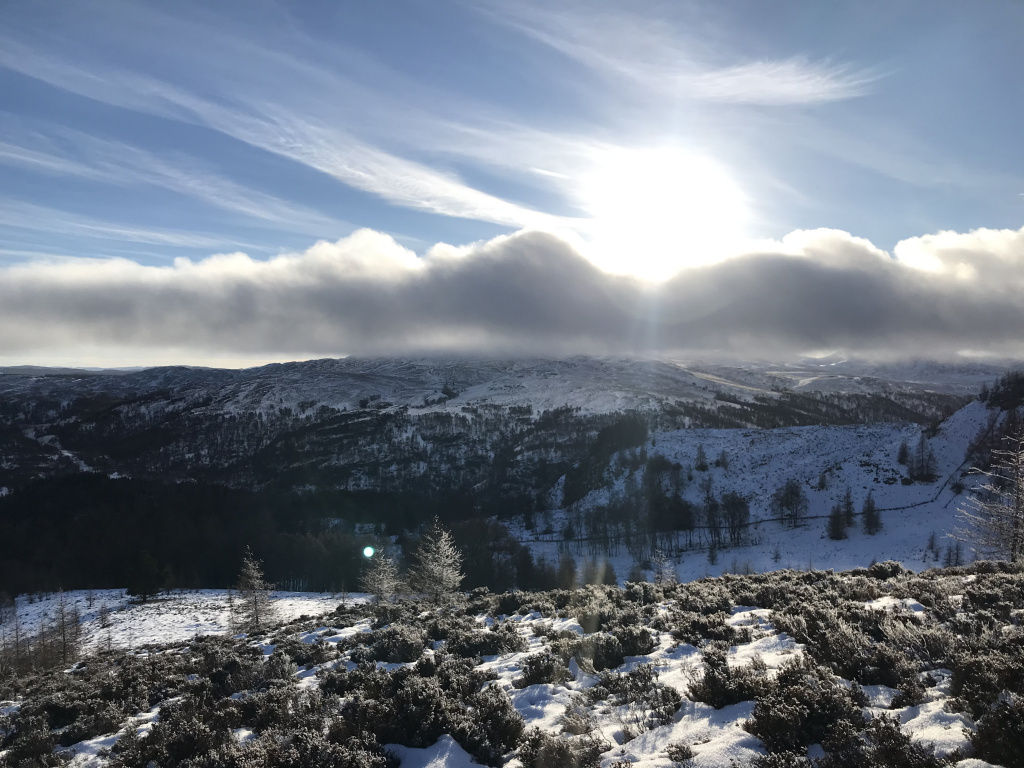 Looking over Faskally, by Pitlochry, normally the biologists' meeting venue. 
While the amber warnings for snow were in force and the first salmon of the year began running up against the grue in Scotland's rivers, many of those working to conserve them gathered to share updates from a challenging year and to look forward to the year ahead.
With over 80 attending online as opposed to travelling by car, at least 1000 tonnes of carbon dioxide emissions were saved.
Rivers and Fisheries Trusts, District Salmon Fishery Boards, Government agencies and academics, attended sessions on the pressures facing Atlantic salmon in Scotland, water quality issues and solutions, fish scale reading, and European eel conservation.
The event is designed to bring together a wide range of people who work across Scotland's rivers and lochs to gather evidence to understand the issues facing native fishes and to inform conservation efforts.
Meeting highlights included 5-minute updates from 18 different rivers/fisheries trusts. These covered the challenges facing fisheries trusts due to COVID-19 and also many achievements in recent months including; distribution of online learning materials for children, litter picking, tree planting and river habitat restoration, invasive species control, eel and salmonid obstacle easements, freshwater pearl mussel and ferox trout studies, peatland restoration and fish farm escape monitoring. In the light of the COVID-19 pandemic the stark financial situation facing many fisheries trusts was also a sobering reminder of the need for financial support for local fisheries managers.
As part of a session on the pressures facing Atlantic salmon, Sean Dugan (SFCC) and Iain Malcolm (Marine Scotland Science) provided an update on a new approach to map and prioritise pressures in Scotland. We were also delighted to welcome Torbjørn Forseth from the Norwegian Scientific Advisory Committee for Atlantic Salmon Management who shared a fascinating insight on Norway's approach to assessing threats to Atlantic salmon.
The start of the second day focussed on efforts to improve water quality for fish and freshwater pearl mussel. Guest presentations on the use of riverbank buffer strips, sensitive commercial forest management practices and invertebrate monitoring generated discussion and debate. State of the art techniques used to reveal life histories from fish scales and European eel conservation presentations from Forth Rivers Trust, The Sustainable Eel Group and Marine Scotland Science rounded off an engaging event for all.
2021 Biologists' Meeting Event Programme
Where available, slides or full video recordings can be found below by navigating using the left and right arrows. Shifting to the right takes you in chronological order from the afternoon of day one through the second day. Please note that as the SFCC member five-minute updates on day one were informal, often delivered with limited slides, these are not included.