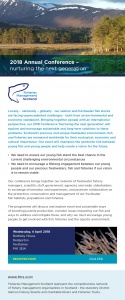 The Fisheries Management Scotland Conference (previously the RAFTS & ASFB Conference) is held in March every year. It has become established as the primary showcase for the work undertaken by the Fishery Trusts and DSFBs in Scotland, and the partnerships which have been established with academia, Government and Agencies.
Our 2018 Annual Conference, 'Nurturing the next generation' took place on 4 April at the Battleby Conference Centre, by Perth. See all the talks presented.
The 2017 Conference took place at Battleby on 29 March 2017. See the talks presented at the 2017 event.