There are reports of small numbers of fish exhibiting signs of bleeding and/or ulceration being caught in Norway, Ireland and Scotland. These symptoms have been reported as being mainly along the area on the belly of the fish between the head and the tail. At the moment what is causing this trauma is unknown. Fisheries Management Scotland are liaising closely with Marine Scotland and samples have now been taken by the Fish Health Inspectorate. If you encounter a fish exhibiting these symptoms please contact the Fish Health Inspectorate immediately – see details below. If possible, the fish should be kept alive until the duty inspector has provided advice as to the appropriate course of action.
Please read the latest advice on the Fish Health Inspectorate web page.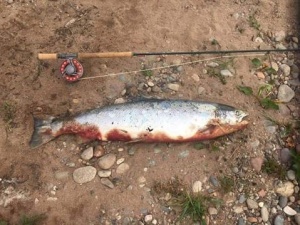 Contact Details for Fish Health Inspectorate
Fish Health Inspectorate
Marine Scotland
Marine Laboratory
375 Victoria Road
Aberdeen
AB11 9DB
Tel:  +44 (0) 131 244 3498
Fax: +44 (0) 131 244 0944Email: ms.fishhealth@gov.scot
If an urgent matter related to the issues listed above arises outside normal office hours, you can telephone the On Call Inspector for assistance on +44 (0)131 244 1833.