Scotland has 41 District Salmon Fishery Boards (DSFBs), including the River Tweed Commission.  DSFBs are constituted and governed under the Salmon and Freshwater Fisheries (Consolidation) (Scotland) Act 2003, whereas the River Tweed Commission operates under The Scotland Act 1998 (River Tweed) Order 2006.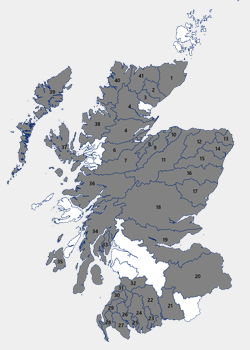 Boards are associations of fishery owners and must include a representative of salmon anglers and tenant netsmen. SEPA, NatureScot, Local Authorities, Crown Estate Scotland and National Park Authority staff and other local stakeholders attend many DSFB meetings and such input is very beneficial.
District Salmon Fishery Boards and the River Tweed Commission have statutory powers and duties to protect and improve salmon and sea trout fisheries within legally-defined salmon fishery districts. These include a power to raise money to fund fisheries management (the fishery assessment) and the power to appoint water bailiffs. Water bailiffs operate under the powers conferred by the 2003 Act to prevent the illegal taking of salmon or trout. Most areas of Scotland have DSFBs, however there are several exceptions (marked in white on the map). Scottish Ministers have powers to act in areas without DSFBs, and in some instances, appoint water bailiffs to provide law enforcement in such areas.
Whilst District Salmon Fishery Boards and the River Tweed Commission have powers to protect and improve salmon and sea trout fisheries it is important to recognise that these powers largely relate to management of exploitation within the fishery (legal and illegal), and protection of spawning beds and juvenile fish in rivers. However, most of the pressures which impact on our rivers are under the regulatory control of other organisations and therefore the fisheries management sector must work with Government, agencies and industry to ensure that the freshwater environment is adequately protected.
Scotland has a number of rivers designated as SACs where the qualifying species is Atlantic salmon. DSFBs are considered as 'competent authorities' in the context of these sites, and any physical actions a DSFB might take must be considered in light of the SAC conditions. In the specific case of fish farming, DSFBs are statutory consultees, but do not have a regulatory role in managing sea lice or escapes.
The Fishery Assessment
District Salmon Fishery Boards are funded through the fishery assessment, which is a form of non-domestic rate. At the request of the DSFB, local authority district assessors value the salmon and sea trout fisheries within that district. The valuation is largely based on the catches salmon and sea trout within each fishery. The DSFB then sets a rate in the pound which is applied at a uniform rate to all fisheries in the district. The fishery assessment raises around £4m each year. In recent years declining catches, and the impact of Covid-19, have placed significant pressure on the fishery assessment as the basis for this funding mechanism is a declining resource.