Chief Executive Officer – Dr Alan Wells
Alan has been the Chief Executive of Fisheries Management Scotland since it was formed in 2017, having previously worked as Policy and Planning Director at the Association of Salmon Fishery Boards.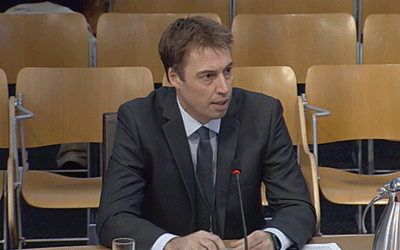 Alan holds a BSc in Marine and Environmental Biology and a PhD in Marine Physiology from the University of St Andrews. He then worked as a post-doctoral research fellow investigating the interactions between wild and farmed salmonids in Scotland, Ireland and Norway. Following a short spell at SEPA, Alan worked for Scottish Environment LINK, where he campaigned for protection of the marine environment in Scotland. He joined the Association of Salmon Fishery Boards in 2011.
Alan has extensive experience of working with government and agencies at local and national level and was seconded to the Scottish Government for 18 months during the wild fisheries reform process. A key priority for Fisheries Management Scotland is working with the Scottish Government and relevant agencies to press the case for protection and enhancement of Scotland's native fish, and the habitats on which they depend.
Director Communications & Administration – Brian Davidson
Brian has been the Director of Communications & Administration of Fisheries Management Scotland since it was formed in 2017, having previously held several roles at the Association of Salmon Fishery Boards and Rivers & Fisheries Trusts Scotland.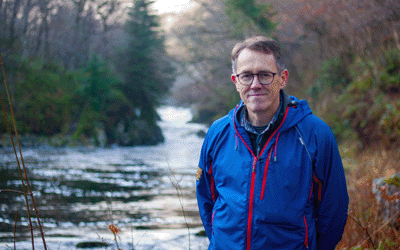 Brian has over 30 years' experience working in freshwater fisheries policy and management. Prior to joining the Association of Salmon Fishery Boards, he held several fisheries policy positions with the then Department of Agriculture & Fisheries for Scotland, Scottish Office Agriculture & Fisheries Department and Scottish Executive. He joined the Association of Salmon Fishery Boards in 1999.
Brian's experience includes working with government and agencies, organisational, project and stakeholder management and helps to co-ordinate the delivery of a number of priorities for Fisheries Management Scotland. These include internal and external communications, salmon and freshwater fisheries enforcement initiatives and raising awareness of issues affecting fish and fisheries. Outside work, Brian is a keen trout and salmon angler, helps manage a fishing beat on the River Tweed and volunteers with a local angling association.
Manager, SFCC (Pitlochry) – Sean Robertson
Sean started out in the Scottish Fisheries Sector in 2017, undertaking a summer placement with the Spey Fishery Board assisting with their summer electrofishing work. Concurrently, he was also completing his MSc at Aberdeen University in Applied Marine and Fisheries Ecology and completed a research project with Marine Scotland undertaking a comparison of different transfection methods with Neoparmoeba peruans, the causative agent of amoebic gill disease.
Sean then joined the Kyle of Sutherland Fishery Board as their Science & Mitigation Officer in 2018. Sean undertook a wide variety of field work from electrofishing, smolt trapping and tagging, adult radio tagging as well as desk-based GIS projects. Sean hopes that his previous experience will give a good understanding of the needs of SFCC members, and hopes to work closely with the membership to help SFCC to grow.
Aquaculture Interactions Manager – Charlotte Middleton
Charlotte joined Fisheries Management Scotland in 2021, having previously worked at Lloyd's Register as a Certification Scheme Manager for the Aquaculture Stewardship Council (ASC) voluntary certification scheme, managing certifications for global aquaculture clients working towards certification against the industry-leading ASC Standards.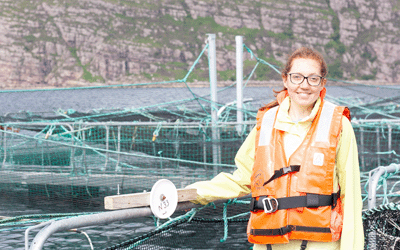 Prior to that, she obtained an MSc in Marine Environmental Management from the University of York, working on a range of projects including fisheries management using GIS mapping software, and researching the biotechnological potential of marine diatoms.
Fisheries Management Scotland are dedicated to conserving and improving the situation for wild fish populations across the range of pressures that they face in Scotland. Charlotte is working to make meaningful changes to aquaculture regulation through engaging with regulators and supporting our members to improve understanding and relationships between the wild fish and aquaculture industries.
Leanne Munro – Secondee: SFCC
Leanne is our newest member of staff, joining as a secondee at the Scottish Fisheries Co-ordination Centre (SFCC). During her time here, Leanne will work alongside The Manager of SFCC to help create standard data collection tools for rivers and fisheries trust as well as review and update current SFCC protocols.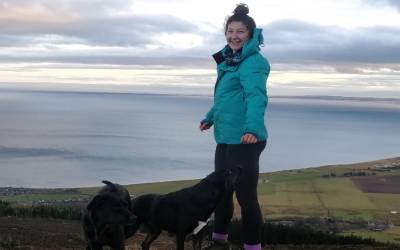 In 2021, Leanne achieved a BSc in Marine Science with Oceanography and Robotics at the University of the Highlands and Islands (UHI) – SAMS, where she enjoyed learning a variety of modules which included the biological clocks of animals and conservation to the dynamics of coastal waters and marine modelling. During her summer breaks, Leanne has worked a couple of seasons as an assistant biologist at the Kyle of Sutherland Fisheries Trust where she got stuck into electrofishing, adult salmon sampling, and GIS mapping just to name a few.
Jenny McNeill – Administrative Assistant
Jenny completed her HND in Business in 2018, gaining skills and knowledge of key business functions such as Law, Finance and Communications. She has a passion for customer care generated from 15 years in customer focussed roles. She joins us as Administrative Assistant and looks forward to working with the Fisheries Management Scotland team and its members in achieving their collaborative aims.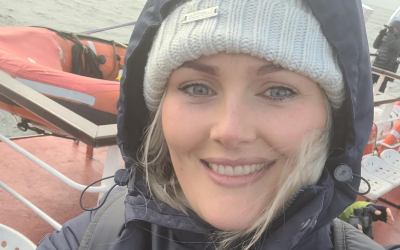 Jenny is a keen advocate for citizen science, spending the winter months watching humpback whales along the coast of Fife. She assists in projects based in and around the Firth of Forth and the rest of Scotland, revolving around the Scottish Humpback ID catalogue and social media. These projects aim to create awareness of the presence of cetaceans primarily within the Forth estuary, engaging communities through marine surveys, monitoring and recording data and non-invasive tracking and identification such as photography and collaborating with other citizen scientists to gain a greater understanding of the cetaceans in our waters.