The 'Wild Salmon Watch' initiative aims to encourage young people and families to try to spot a wild Atlantic salmon during the October school holidays. Did you know that salmon can jump waterfalls up to 4m in height?
How to Get Involved: View our map below for possible locations to spot wild salmon or wild trout leaping up waterfalls. You can also use the #WildSalmonWatch on Twitter and Instagram to share your images of salmon leaping. Please see our safe salmon watching guide at the bottom of this page.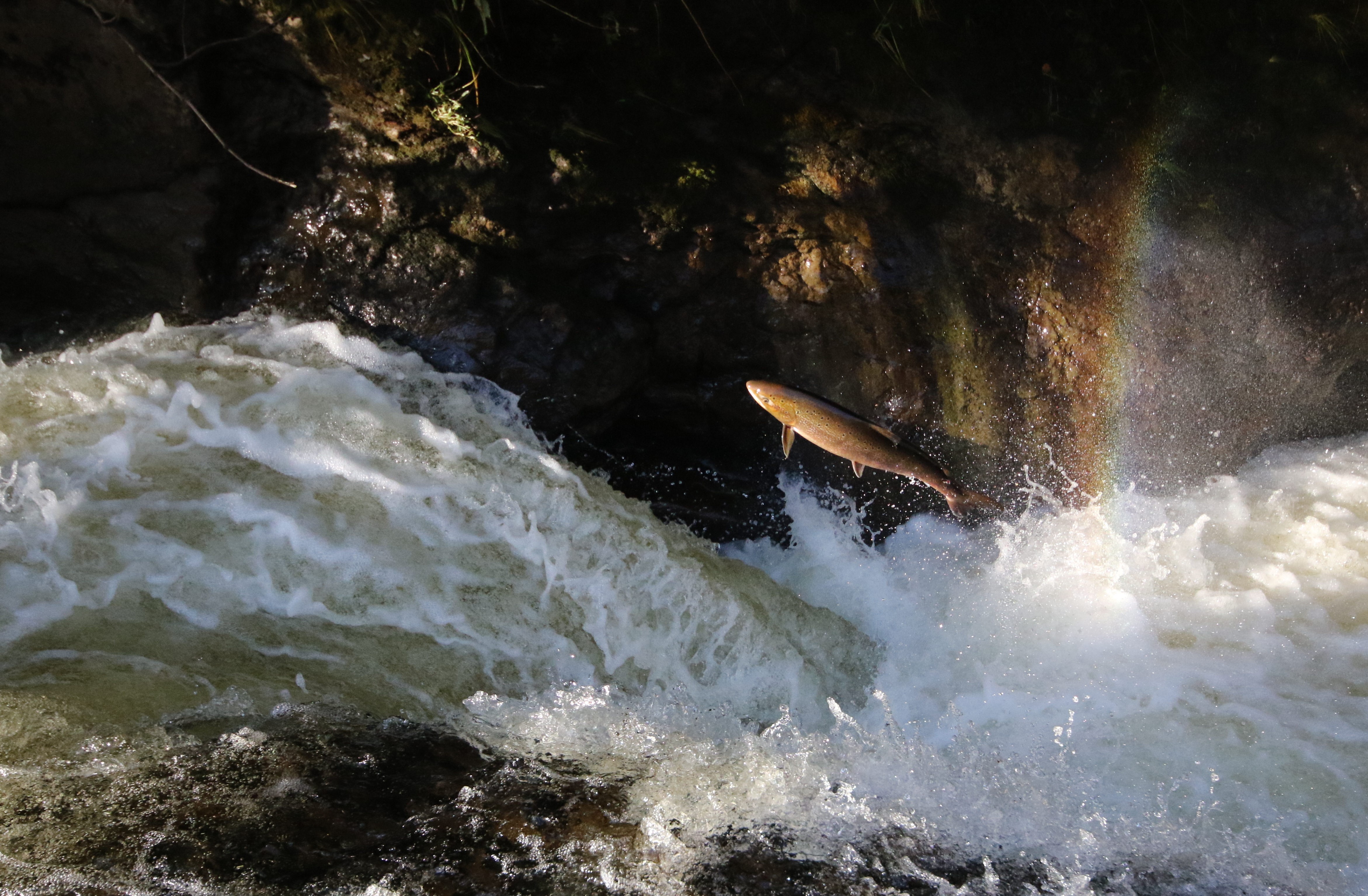 Salmon leaping at Buchanty Spout on the River Almond, Tayside.
Healthy Wild Atlantic salmon populations contribute to the culture, society and economy of Scotland. These fish are renowned for their epic ocean migrations and for their ability to leap up large waterfalls. Scotland has several possible locations where you may have a chance to view one of nature's spectacles, Salmo salar "the leaper" jumping upstream on the final stage of its spawning migration.
Autumn is usually the best time to see the fish leaping with the focus for this event being the October school holiday period. Your best chance to see salmon leaping is when rivers drop and clear after rainfall. Levels can be viewed on the SEPA River Levels Page.
Find out where you might spot a leaping wild Atlantic salmon: (click on the locations to view further info)

Safe Salmon Watching Guide:
Follow all of the latest advice from the Scottish Government related to Coronavirus (COVID-19) and stay at least 2m away from other people while watching salmon.
Rivers are changeable and unpredictable; levels can rise very quickly. If in doubt, check the weather forecast and local river levels before you leave. This information may be available on the SEPA website.
Riverbanks can become unstable during floods and after heavy rain. We advise that Salmon watching should not be undertaken in flood conditions due to the increased safety risk. Furthermore salmon do not usually attempt to jump up waterfalls during flood conditions.
For your own safety, we advise that you and any other members of your party/group stay well back, at least 3 metres from the waters edge. Please ensure that you do not sit somewhere where you may be liable to be stranded should river levels quickly rise.
Ensure that you have suitable equipment before setting out; in particular suitable footwear. River banks can be very slippy so footwear with gripping soles is essential.
Do not go near a river on your own.
Exercise your access rights responsibly. Do not cause a nuisance to other river users and do not leave litter. If in doubt please consult the Scottish Outdoor Access Code.