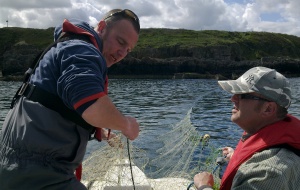 The Fisheries Management Scotland Enforcement Committee helps to inform our strategic policy, training and operational activities relating to fisheries enforcement. We have a number of priorities which are set out in our Enforcement Strategy. These are:
Working with relevant stakeholders, to ensure the fisheries legislation is fit for purpose, easily understood and enforceable, with penalties which reflect the environmental damage of fish poaching, damage to habitat and disturbance and damage to juvenile and adult fish.
To promote best practice in fisheries enforcement, including development and sharing of protocols, standardised tools and technology.
To raise the profile of fish crime, including any associated socio-economic impacts on citizens and recreation. This process will help inform the need for new legislation and improved penalties but will also aim to ensure that fish have greater prominence in a range of discussions, publicity and policy formulation in relation to wildlife crime.
To co-ordinate and facilitate consistent enforcement related training through a delivery plan and a system of Continuous Professional Development. This includes training needs not only for our own staff network, but other stakeholders including Police Scotland, Crown Office Prosecutor Fiscal Service and Marine Scotland.
Minutes