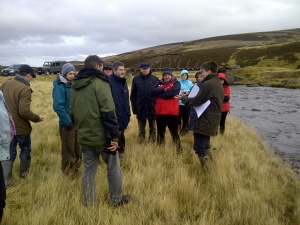 We maintain a regular dialogue with MSPs, Scottish Government, SEPA, SNH and Local Authorities on matters relating to fish, fisheries and the aquatic environment. Fisheries management is primarily about the removal, management and mitigation of impacts on fish and their habitats and therefore we have established a working relationship with a range of key industry sectors and developers to ensure that any potential impacts on fish are appropriately addressed.
Fisheries Management Scotland responds to a range of national consultations in partnership with our members. We also respond directly to applications for offshore wind, wave and tidal energy developments, if they are located in strategically important areas and we consider that they have the potential to impact fish from a range of riversFurther details can be found on the publications page.
Fisheries Management Scotland represents our members across a broad range of stakeholder groups including the following:
Wild Fisheries Reform
Stakeholder Reference Group
National Wild Fisheries Strategy Development Group 
Crime and Enforcement Working Group
Training & Continuous Professional Development Working Group
Change Management and Transitional Matters Working Group
Fishery Management Plan Template Working Group
Scottish Government
Marine Strategy Forum
Partnership Against Wildlife Crime plenary group
Partnership Against Wildlife Crime – Poaching Priority Delivery Group
SpoRRan
SEPA
Water Framework Directive National Advisory Group
Diffuse Pollution Management Advisory Group
Fish and Fisheries Advisory Group

SNH
Species Reintroduction Forum
Fisheries Management Scotland play a key role in coordinating our members' responses to a range of local developments. DSFBs are statutory consultees for fish farming developments and are routinely consulted on a range of other developments. Fishery Management Scotland acts as a convenient central point for Scottish Government and developers to seek views on local developments. On that basis we receive notification of all Section 36 and Section 37 Applications (Electricity Act 1989) and all marine licence applications in Scotland, and ensure that the relevant local DSFB/Trust is alerted to any proposal. Where developments are of particular local concern, from the perspective of fish or fisheries, Fisheries Management Scotland will also support our members by engaging in the planning process for local developments and facilitating legal advice and other support.