Fisheries Management Scotland facilitates the delivery of a number of training initiatives for fisheries law enforcement.
Water Bailiff Examination
Working with the Institute of Fisheries Management, we deliver a series of annual examinations for prospective water bailiffs. The water bailiff training course is the learning resource to support examination candidates. The aim of the course is to ensure that individuals who may be appointed as a water bailiff by a district salmon fishery board or Scottish Ministers can demonstrate a range of competencies. This includes, for example an understanding of the statutory powers of water bailiffs, collection and storage of evidence, enforcement protocols and court procedures. If you are interested in undertaking water bailiff training, please use our Register Your Interest form and we will put you in contact with the trainer.
Annual Enforcement Seminar
Working with our members we deliver an annual Enforcement Seminar, which amongst other things delivers practical training to staff in our sector and external agencies. The event is designed to promote a collaborative approach, not only between enforcement staff from different fishery boards, but also with Marine Scotland, Police Scotland, The Crown Office Procurator Fiscal Service. See our Events Page for further information about the next seminar.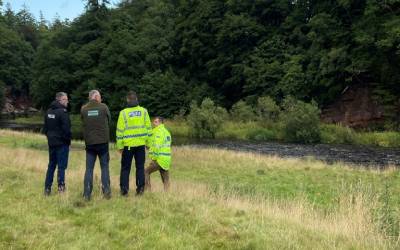 Training for Police Scotland and Procurator Fiscals
As part of our objective to improve the understanding of fish poaching, we facilitate training days with Police Scotland and the Crown Office Procurator Fiscal Service. These are designed to provide a more in-depth understanding of the fisheries legislation, the enforcement structure and to promote joint working between water bailiffs and Police Scotland.
Training resources and tools