Fisheries Management Scotland are working with our members to develop a consistent approach to monitoring for impacts on wild fish.
Formal requirements for such monitoring are increasingly being included as a planning condition through Environmental Management Plans. Whilst these are an imperfect solution, we are working to ensure that they are as effective as they can be until the planning and regulatory system is reformed.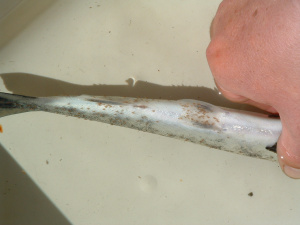 We are working with our members in the aquaculture zone to develop and deliver a range of projects to monitor the impacts on salmon farming on wild fish. It is easy to discuss interactions between farmed and wild fish in black-and-white terms, whereas the reality is that such interactions are highly complex, difficult to quantify and varying between different areas. It is our view that an adaptive management approach – where the results of robust monitoring of impacts on wild fish feed back into farm management through the regulatory system – is the most appropriate route forward. Our focus is primarily on sea lice and escapes, but we are also investigating sampling methods to develop a better understanding of disease transfer.
Sweep netting for juvenile sea trout
Fishery Trusts in the aquaculture zone have for many years undertaken a programme of sweep netting to monitor juvenile sea trout and record the infestation pressure of sea lice. This work, which was previously coordinated by RAFTS as part of their "Managing Interactions" programme, is funded by Marine Scotland and we are grateful for this continuing support.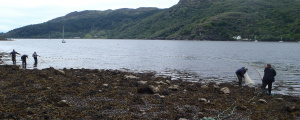 The reports and data arising from this work are included below. Unfortunately, due to the impact of Covid-19, it was not possible to undertake this vital monitoring during 2020.
2019 – Sweep Netting Data
2018 – Sweep Netting Data
2017 – Sweep Netting Report
2017 – Sweep Netting Data
2016 – Sweep Netting Data
2014 – RAFTS Sweep Netting Report
2013 – RAFTS Sweep Netting Report
2012 – RAFTS Sweep Netting Report
2011 – RAFTS Sweep Netting Report
Alternative methods for monitoring sea lice on wild fish
In parallel with the established programme of sweep netting, we have also been working with Crown Estate Scotland, Marine Scotland and Mowi to develop and refine techniques to monitor wild fish in an agreed and objective manner, ultimately with the objective of providing an appropriate feedback loop to fish farm management. We are grateful to Crown Estate Scotland for funding this project.
An important element of this project was to compare the established technique of beach seine netting for wild sea trout with the deployment of a bag net system, which had previously been trialled in Ireland and Norway. Beach seine netting is an established technique, but it is restricted as it is mainly restricted to sampling sea trout and cannot be used on steep rocky shores, or over seabed with significant seaweed or boulders.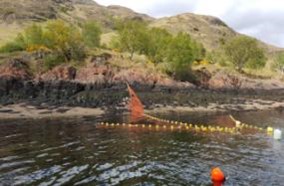 Fixed nets have the potential advantage of capturing a more representative sample of the local population of fish and have the potential to allow the capture of juvenile salmon, as well as sea trout. The net design is similar to that of a commercial fixed engine salmon net (see Figure 1). A 'leader' net extends perpendicular from the shore and diverts fish into a v-shaped system of nets. Wild fish swim freely in the net until released, following sampling for sea lice by researchers.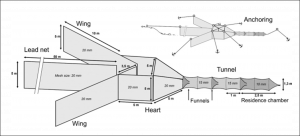 Lochaber Fisheries Trust developed the net design with help from wild fish researchers in Ireland and Norway. Mowi played an invaluable role through helping the Trust to deploy and retrieve the net and supporting the day-to-day monitoring of fish through provision of boat and staff time. This collaborative approach was extremely positive and resulted in the wild fish and aquaculture sectors working closer together and developing a better understanding of each other's work and viewpoints. The opportunity for discussion and learning between the two sectors led to better understanding on both sides about the challenges we face and potential solutions.
The first phase of the project delivered preliminary results and a significant output was the development of a Standard Operating Procedure covering the equipment, preparation and deployment of a fixed coastal fyke net for the purpose of sampling wild salmonids. This will be made available to wild fisheries managers and finfish farming companies to inform wild fish monitoring for the purposes of Environmental Management Plans and monitoring as part of the future regulatory regime. The next phase is to roll out fyke net sampling across the aquaculture zone.
Final report – phase 1 (March 2020)
Standard Operating Procedure (March 2020)
Genetic sampling for escaped farmed fish
Rivers and Fisheries Trusts of Scotland
In 2011, the Rivers and Fisheries Trusts of Scotland (RAFTS) and its member fishery trusts and partner district salmon fishery boards on the west coast of Scotland began a programme of work funded by the Scottish Government associated with the interactions between aquaculture and wild fish populations. The Managing Interactions Aquaculture Project was designed to support the better coordination and management of wild fisheries and stocks with the aquaculture industry. A major element of this work was to develop a programme of genetic sampling and analysis.
Differences that occur within the Atlantic salmon genome allow for the identification of different individuals as well as populations or 'stocks', and such differences have been used in the identification of genetically differentiated stocks in different regions and rivers. One area where such differences are apparent is in the distinction between wild fish and fish from domesticated, aquaculture strains. These differences have been shown to occur within a very small number of generations of domestication and have been used to both identify farm of origin of aquaculture escapes as well as assess the potential and degree of interbreeding between aquaculture escapes and wild fish.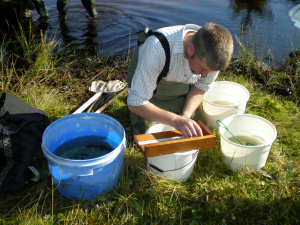 As part of the Managing Interactions Aquaculture Project juvenile salmon were surveyed in order to initiate a robust, pan-west coast sampling network, which also allowed Fisheries Trusts to focus on areas of particular concern or interest. In addition to samples collected in areas near fish farming operations, sites located further away were also targeted to represent a wide range of the genetic diversity present.
Most sampling sites had a signature of hybridization that was significantly higher than expected by chance. Across all sites, 369 out of 1472 (25.1%) individuals were identified as hybrids, which is significantly higher than that seen for the east coast 'wild' baseline.
The final report can be accessed below:
RAFTS MIAP Genetics Report (2013)
Loch Shin
During PIT tagging operations on Loch Shin, The Kyle of Sutherland Fisheries Board and Trust discovered fish which were suspected to be of a farmed origin. Two freshwater salmon farms operate on Loch Shin and no escapes were reported to Marine Scotland. Both farms therefore claimed that the escaped fish must have originated from the other farm. Marine Scotland Science conducted a genetic investigation  which has subsequently been published in the ICES Journal of Marine Science.
Juvenile fish sampled from rotary screw traps operating on tributaries of Loch Shin in Scotland had characteristics suggesting they were of farm origin (scale losses, fin damage, and vaccination marks). To investigate their origins, baseline samples (n = 1200) were collected from the two freshwater smolt rearing facilities on the Loch. It was clear that fish from both sources had escaped.
As a result of this work we are now working with Marine Scotland to develop a programme of strategic sampling for open-cage freshwater salmon production sites across Scotland. The Loch Shin example was also key to our work advocating for change to the regulatory system.
National Electrofishing Programme for Scotland
The National Electrofishing Programme for Scotland (NEPS) provides the data necessary to carry out an annual assessment of the status of Scotland's salmon stocks using electrofishing data. The first national survey was carried out in 2018 and this was repeated in 2019. The survey is designed, managed and analysed by scientists at Marine Scotland Science. Data is collected by local fisheries managers according to protocols developed by Marine Scotland Science in consultation with the Scottish Fisheries Coordination Centre.
As part of the National Electrofishing Programme for Scotland, genetic samples were also obtained from up to 30 parr at each of the multi-pass electrofishing sites to assess genetic introgression. This data is currently being analysed by Marine Scotland Science and will be published soon.
Carradale
Following the recent escape of nearly 50,000 farmed salmon from Mowi's North Carradale salmon farm, Fisheries Management Scotland has been working with our members to monitor the situation and mitigate where possible. We worked with Marine Scotland and Mowi to design and agree a genetic monitoring project which will allow us to determine the impact of the escape on the genetic integrity of the wild salmon population. Samples of juvenile fish will be collected by Fisheries Trusts and genetic analysis will be undertaken by Marine Scotland Science for 115 sites in rivers draining into the Firth of Clyde.
Related Pages
Salmon Interactions Working Group
Environmental Management Plans