There are a number of training courses and different organisations who deliver these courses in Scotland. These cover training in a variety of different disciplines – science and technical, enforcement and a range of broader skills relevant to management.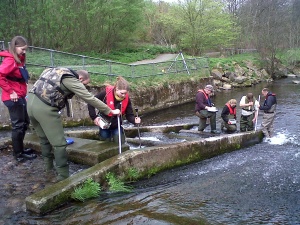 The Institute of Fisheries Management deliver a certificate course, diploma course and a range of short courses. Whilst IFM is a UK-wide organisation, many of their courses have relevance to Scotland. The Scottish Bailiff Training Module counts as a unit towards the IFM Certificate course.
The Scottish Fisheries Co-ordination Centre deliver a range of courses tailored to fisheries management in Scotland. These include courses on electro-fishing, habitat surveying, scale reading and a range of other fisheries management disciplines.
Fisheries Management Scotland, Scottish Fisheries Co-ordination Centre and Institute of Fisheries Management have produced an informal training prospectus which sets out the sector-specific training events for 2017.