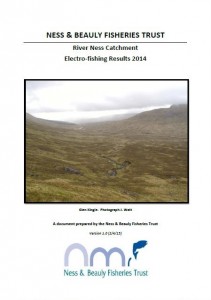 The Ness and Beauly Fisheries Trust 2014 Ness Catchment electric fishing report can be downloaded by clicking on the cover image to the right. The report describes the survey methodology employed at each site and compares the 2014 results with those from previous years.
River Ness Mainstem Surveys
Results of the 2014 surveys on the mainstem of the River Ness were extremely encouraging. Of the three River Ness sites, each one produced densities of salmon fry that would be regarded as 'excellent' under the NBFT density classification scheme.
The salmon fry density of 417/100m2 from site N4 (Dochfour) is the highest ever recorded from the Ness catchment and indicates a good level of spawning activity in the upper reaches of the River Ness in the winter of 2013. Older year classes of salmon were also well represented with two sites (N2: Holm Mills Weir and N3: Ness Castle) achieving density classifications of 'excellent' and one site (N4) being classed as 'good'. Numbers of juvenile trout were low from each of the mainstem sites. This result is almost certainly an artefact of site selection which sought to sample areas of juvenile salmon habitat rather than trout habitat.
River Enrick Mainstem Surveys
The two quantitative surveys executed on the River Enrick showed similar encouraging results. The lowermost site: EN1 (Drumnadrochit); has consistently shown itself to harbour 'excellent' densities of both salmon fry and parr. The most recent survey was no exception to this, with both cohorts being classed as 'excellent'. The upper site: EN7 (Corrimony); is towards the upper range in which returning adult salmon can naturally access. In contrast to EN1, spawning is not as plentiful and represents what NBFT would regard as parr habitat. This has been reflected by the inconsistent densities of salmon fry seen between 2007 and 2014. The most recent survey generated salmon fry and parr densities that would be classed as 'good' and 'excellent' respectively. However, it should be noted that there appears to be an overall downward trend in salmon fry density at both sites.
Lower River Garry and Tributaries
Results gathered from historic and the most recent surveys on the Lower River Garry (sites GAR2 and GAR3) would indicate that the limited spawning media present in the vicinity of the sites is well utilised with both surveys generating salmon fry density estimates that would be classed as 'excellent'. However, densities of salmon parr appear to have declined year on year. Precise reasons for the decline remain unknown and NBFT intend to monitor the situation closely.
Allt na Caillichie is an important tributary of the Lower River Garry that shows itself to harbour an important population of juvenile salmon. The 2014 survey generated salmon fry and parr densities that would be classed as 'good' and 'moderate' respectively. In their routine habitat survey of site ANC1, NBFT have noted considerable changes to the substrate matrix between surveys and this could indicate that the burn periodically suffers from redd 'wash-out'.
The Aldernaig Burn is heavily impacted by abstraction in its upper reaches and this lead to NBFT being unable to carry out surveys in 2010 and 2011 due to severely depleted flows. Densities of salmon fry have been typically low/absent. Indeed, spawning media in this section of the burn is extremely sparse, both in terms of area and distribution. Salmon parr were well represented in 2009 and 2013 with density classifications of 'excellent' and 'good' respectively. However, there was a marked decrease of over 80% between 2013 and 2014. The precise reasons for this remain unknown although it is possible that during drought conditions, juvenile salmon may leave the burn's lower reaches for the relative sanctuary of the mainstem.
When comparing mean salmon fry densities between Watt (2005) and NBFT in 2013 and 2014, this report has shown that results appear to fluctuate between years. In terms of mean salmon parr densities, these too appear to fluctuate with a decrease in excess 50% between 2013 and 2014.
Loch Garry and Tributaries
Salmon fry were recorded as absent from each of the quantitative surveys carried out on Allt Daingean, Greenfield Burn, Garbh Allt and Allt Garry Gualach. With the exception of the Allt Daingean site (ADAI1), these results are in line with results from the 2013 surveys. Similarly, salmon parr were absent from each site except from ADAI1 where a 'moderate' density was generated from the quantitative survey. When examining densities of juvenile trout, results would suggest that the Greenfield Burn and Garbh Allt act as important nursery areas for trout. It remains to be seen if the trout in these burns are the progeny of resident or migratory trout.
Comparison of mean salmon fry and parr densities between Watt (2005) and NBFT's surveys in 2013 and 2014 have shown marked reductions in both year classes indicating a distinct lack of returning adult salmon to these parts of the catchment.
Upper River Garry and Tributaries
The four surveys conducted on the Upper River Garry and its tributaries showed very low numbers of both salmon fry and parr, despite the presence of some very suitable habitat both in terms of spawning and accompanying juvenile habitat. Results from 2013 and 2014 clearly show a distinct underutilisation of the available habitat by salmon. Conversely, it would appear that the habitat available on Allt Choire a' Bhalachain and Allt na Slaitaich is well utilised by trout.
Comparison of mean densities of juvenile salmon show an overall falling trend both in terms of salmon fry and parr.
River Gearr Garry and River Kingie
Up until 2014, salmon fry were not recorded in any electro-fishing surveys on the Gearr Garry despite the removal of Poulary Heck in 2004. The presence of a single salmon fry at Site GG2 (Gearr Garry) in 2014 would indicate a degree of spawning success in the winter of 2013. A further two timed surveys on the Gearr Garry showed salmon to be absent.
The 2014 quantitative assessments of the River Kingie and the Kinbreac Burn showed salmon fry to be present, albeit in densities that would be classed as 'poor' and 'moderate' respectively. However, salmon parr densities from the same sites were more encouraging and would be classed as 'moderate' and 'good'. Further upstream, the timed sites KI/Timed11 and KI/Timed13 revealed salmon fry in low numbers whilst parr were absent.
Source: Ness and Beauly Org – 2014 Ness Catchment Electro-fishing Survey Results