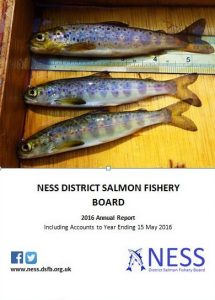 The Ness District Salmon Fishery Board's '2016 Annual Report and Accounts' were approved at our Annual Meeting of Qualified Proprietors on the 22nd December 2016. They can be viewed by clicking on the cover image to the right of this text.
A quick reminder that we will be holding our Annual Public Meeting at 19:30 on Thursday the 19th January 2017 in the Kingsmills Suite, Inverness Caledonian Thistle Football Club. Hard copies of the Annual Report and Accounts will be available at this meeting.
The Annual Public Meeting is open to the public, with places limited to 50 seats. Please contact Chris Conroy (Clerk) at ceo@ndsfb.org or 01463 861245 to register an interest in attending.
The final agenda for the Annual Public Meeting will be available from the week beginning 12th January 2017.
Source: NESS DSFB – 2016 Annual Report and Accounts