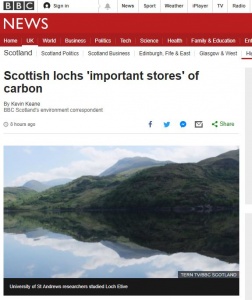 Scotland's sea lochs play an important role in storing carbon which would otherwise contribute to climate change, scientists have suggested.
Using samples from Loch Etive, near Oban, researchers calculated that a square metre of sediment contains more carbon than peatlands.
Protecting carbon stores is important because when it is disturbed it can release greenhouse gases.
The study was carried out by researchers at St Andrews University.
While millions is spent on enhancing and restoring carbon-stores in peat moors, sea lochs are afforded relatively little protection from activities like dredging and the researchers said that needed to change.