Conference presentations
Session 1: Addressing the wild salmon crisis
Alan Wells (Fisheries Management Scotland)
Advocacy and Action
Alan is the Chief Executive of Fisheries Management Scotland – the representative body for Scotland's district salmon fishery boards, the River Tweed Commission and rivers and fisheries trusts. Alan spent nearly 15 years at the University of St Andrews, latterly as a post-doctoral research fellow examining the management of interactions between aquaculture and wild salmonid fish. In 2011 Alan joined the Association of Salmon Fishery Boards, which became Fisheries Management Scotland in 2016. Fisheries Management Scotland represents members across a broad range of issues including: salmon conservation; fisheries enforcement and wildlife crime; aquaculture; river basin management planning; predation; beaver management and marine renewables.

Antje Branding (Marine Scotland)
Scotland's Wild Salmon Strategy
Antje joined the then Scottish Executive as Scientific Adviser in 1999, and has held various policy posts since then. This includes roles in environmental protection, agriculture, climate change, European engagement and flood risk management. The wide range of policy areas covered previously are a good foundation for her current role in wild salmon conservation, which requires cross-cutting policy development involving many teams in Scottish Government, agencies and the wider stakeholder community.

Robert Lennox (NORCE Environment)
Restoring Atlantic salmon: The ongoing quest for success
Robert is a senior researcher at the Norwegian Institute for Nature Research and the Norwegian Research Centre (NORCE) in Norway. Much of his research focuses on tracking animals with electronic tags and adapting conservation strategies based on animal behaviour derived from tagging projects. His work has had a strong emphasis on Atlantic salmon at all life stages and attempts to conserve and restore populations of this iconic fish.

Dieter Helm (Professor of Economic Policy, University of Oxford) (Pre-recorded)
River catchments, net zero and natural capital
Dieter is Professor of Economic Policy at the University of Oxford and Fellow in Economics at New College, Oxford. From 2012 to 2020, he was Independent Chair of the Natural Capital Committee, providing advice to the UK government on the sustainable use of natural capital. In the New Year 2021 Honours List, Dieter was awarded a knighthood for services to the environment, energy and utilities policy. He has written many books, most recently Net Zero, in which he addresses the action we all need to take to tackle the climate emergency. He is currently writing a new book on The Sustainable Economy.

Session 2: Working to improve the health of our rivers
Roger Knight (Spey Fishery Board)
The Climate & Biodiversity Crises: Building Sustainability & Resilience For Our Rivers
Roger is the River Director for the River Spey, where he is responsible for a range of projects, including habitat enhancement projects through the Spey Catchment initiative and projects to mitigate or remove barriers to fish passage around the Spey catchment.

Alan Kettlewhite (Argyll Fisheries Trust)
The trouble with trout
Alan graduated from Sparsholt College with a Degree in Aquaculture & Fishery Management. He has 20 years' experience in fishery management in Argyll and the Islands and is now director of operations at the Trust. He enjoys fishing – most of the time.

Stuart Brabbs (Ayrshire Rivers Trust)
Low tech solutions to improve riverbank stability and habitat
Stuart's background was in horticulture and contracting and civil engineering, both of which now serve him well when working in fisheries management. In his previous career, Stuart was involved with a wide range of civil projects including opencast mining and coal extraction. When Stuart realised that he wanted to repair rather than damage the environment, he retrained and joined Ayrshire Rivers Trust in 2008 where he now manages the trust. His life-long passion for angling has been somewhat replaced by his enthusiasm for conservation.

Jack Wootton (Forth Rivers Trust)
Forgotten Fish – The Eel
Jack is a Senior Ecologist for the Forth Rivers Trust, with a keen interest in all things eel. Studying at Lough Neagh he developed an interest in eels that has never left him. He founded the Forgotten Fish Project that focuses on the less loved species of fish within Scotland and on the 22nd April this year he will be hosting the first Scottish Eel Conference.

Chris Daphne (Ness DSFB)
The Freshwater Pearl Mussels of The River Moriston
Chris is a Fisheries Biologist with over 20 years experience in various aspects of fisheries management. He has led on a number of projects including pearl mussel encystment, understanding eel populations and currently leads a number of projects including fish population surveys, education initiatives, Scottish Invasive Species Initiative and various tracking projects with the Atlantic Salmon Trust.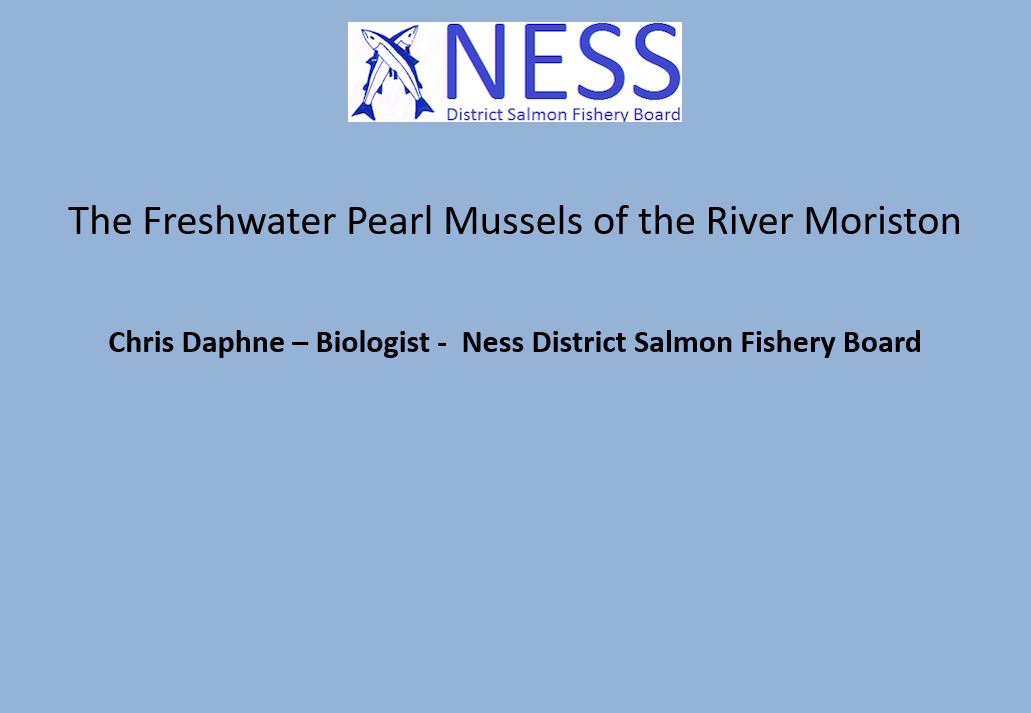 Craig MacAdam (Buglife)
Ain't no mountain high enough: climate warming and freshwater invertebrates
Craig is Conservation Director with Buglife – The Invertebrate Conservation Trust – where he oversees all conservation activities in the organisation including development of pollinator and freshwater policy work, planning case work and the development and implementation of practical conservation work on the ground around the UK and abroad. He has been studying aquatic invertebrates for over 30 years and co-ordinates the national recording schemes for mayflies and stoneflies. Craig is particularly interested in the impacts of climate change on mayflies and stoneflies and their habitats.

Session 3: Fisheries Management Scotland film premier: Our Wild Salmon
Craig Somerville (The Castabroad Collective)
Our wild salmon – a journey of discovery
Craig is the owner of Castabroad, the company who produced the series of Our Wild Salmon films. Craig describes the process of creating this series from a film-makers' perspective.

14:05 Film Screening