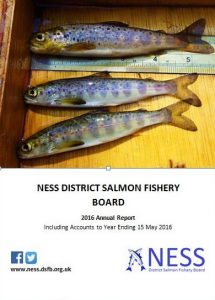 The Ness District Salmon Fishery Board will be holding its Annual Public Meeting at 19:30 on Thursday the 19th January 2017 in the Kingsmills Suite, Inverness Caledonian Thistle Football Club.
The key purpose of our Annual Public Meeting is to report to the local community on our activities over the last year and to seek wider engagement in Fishery Board business.
It will include presentation of our 2016 Annual Report and Accounts and an explanation of key activities planned for the forthcoming year. The report can be viewed by clicking on the cover image to the right of this text (hard copies available at the Public Meeting).
Guest speaker Jon Gibb (Hatchery Manager) will give an overview of the River Lochy smolt programme, together with other projects that are being delivered via the Drimsallie Hatchery.
Please see the updated notification and final agenda for the meeting.
This meeting is open to the public. Places are limited to 50 seats.
Please contact Chris Conroy (Clerk) at ceo@ndsfb.org or 01463 861245
to register an interest in attending.
Source: NESS DSFB – Annual Public Meeting – 19th January 2017