Video recordings or presentation slides are made available with thanks to our speakers.
DAY 2, February 3rd
---
Session 4 – Sea trout and open-cage fish farming impacts
Sea trout working group (WGTRUTTA)
Dr Alan Walker, Centre for Environment, Fisheries and Aquaculture
Alan is lead advisor at Cefas on freshwater and diadromous fish, specialising in salmon, sea trout and eels. Alan chairs the ICES WGTRUTTA and is a member of the salmon working group WGNAS. His research interests focus on understanding the life history and behaviour of diadromous fish species across the diversity of freshwater, estuarine and marine environments so that we can improve our assessments of stock status and human impacts, and therefore support the conservation and sustainable use of these key species.

Lice infestation risk in Argyll sea trout
Alan Kettle-White, Argyll Fisheries Trust
Alan has been working for Argyll Fisheries Trust since 1999 and is now Senior Biologist and Manager of the Trust. His main interests are understanding and managing the interactions between wild and farmed fish and improving management of fish habitats.

Fyke netting surveys and sea trout lice infestations in Lochaber
Lucy Ballantyne, Lochaber Fisheries Trust
Lucy joined the Trust in September 2007. Previously she worked as an aerial surveyor for the Wildfowl and Wetlands Trust looking at the effect of offshore wind farms on the environment. Lucy studied marine biology at university, and was keen to return to work in fisheries. Lucy co-ordinates the Trust's research and monitoring work as well donning her waders and getting out into the field to catch fish. She has a strong interest in education, and leads our Salmon in the Classroom project, working with primary schools pupils to raise salmon from eggs to alevins, and release them into local burns.

A national assessment of the influence of farmed salmon escapes on the genetic integrity of wild Scottish Atlantic salmon populations
Dr John Gilbey, Marine Scotland Science
John is a genetic analyst working at the Marine Scotland Freshwater Fisheries Laboratory. He is interested in the genetics and genomics of salmonid and other fish species. Topics of interest include phylogenetics, adaptive variation, and mixed stocks fishery analysis. He has recently focused on the interactions between farm and wild salmon.

Wild fish and sea lice interaction framework
Dr Peter Pollard, Scottish Environment Protection Agency
SEPA's Head of Ecology and sponsor for its finfish aquaculture sector work programmes.
Slides not currently available.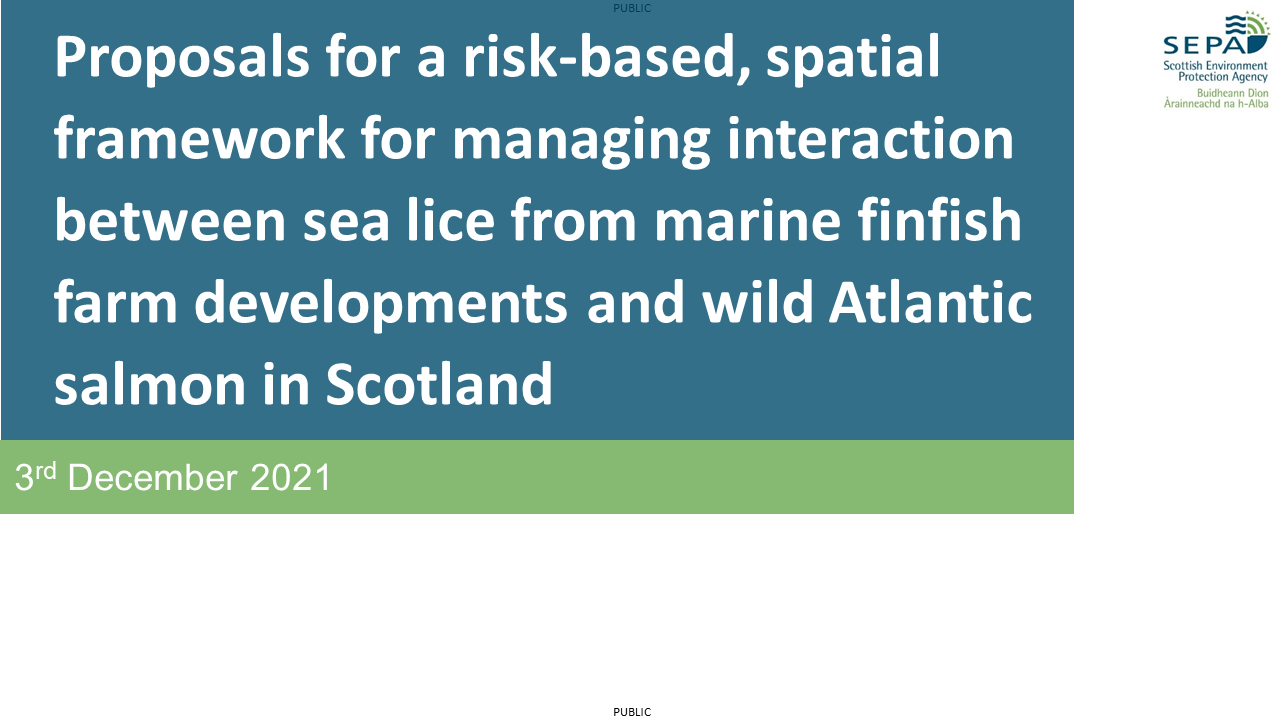 ---
Session 5 – Riparian woodland restoration planning
Where to plant trees to protect rivers under climate change
Dr Faye Jackson, Marine Scotland Science
Faye is a data analyst in the Freshwater Environment Group. Her interests are on understanding the interactions between hydrology, climate and ecology. She has been working on river temperature since 2011 and has been part of the Scotland River Temperature Monitoring Network collaboration since its outset in 2013.
---
Session 6 – Atlantic salmon
The Decline and Impending Collapse of the Atlantic Salmon Population in the North Atlantic Ocean: A Review of Possible Causes
Prof. Michael Dadswell, Acadia University, Canada
Michael Dadswell is an adjunct professor with the Department of Biology, Acadia University, Nova Scotia. Michael does research in Zoology, Marine Biology and Ecology of fish and invertebrates. His current projects include 'The at-sea mortality of Atlantic salmon', effects of tidal power development on marine organisms and the biology of sturgeons. Acadia University·

Using eye lens and otolith chemical tracers and biochronologies to understand the lifetime growth, diet, movement, and habitat needs of Atlantic salmon
Dr Anna Sturrock, University of Essex
Dr Anna Sturrock is a UK Research & Innovation Future Leaders Fellow and Lecturer in Marine Ecology at the School of Life Sciences, University of Essex. Anna is an aquatic ecologist with a particular interest in fish ecology, conservation and management. She primarily uses natural chemical tracers and growth increments in fish tissues to reconstruct the migration patterns, phenology, physiology and trophic ecology of vulnerable and commercial species.

Missing Salmon Alliance Central Data Resource
Graeme Diack, Missing Salmon Alliance, UK
After over a decade working with IT infrastructure Graeme re-routed his career to data management by completing an MSc in Maths and Data Analysis. Following graduation, he was employed by the Atlantic Salmon Trust, to develop data solutions for the Likely Suspects Framework. Graeme's role as Data Specialist is to lead on the discovery and mobilisation of databases of biological records and environmental parameters in support of the Likely Suspects Framework.

Back to Day 1 presentations