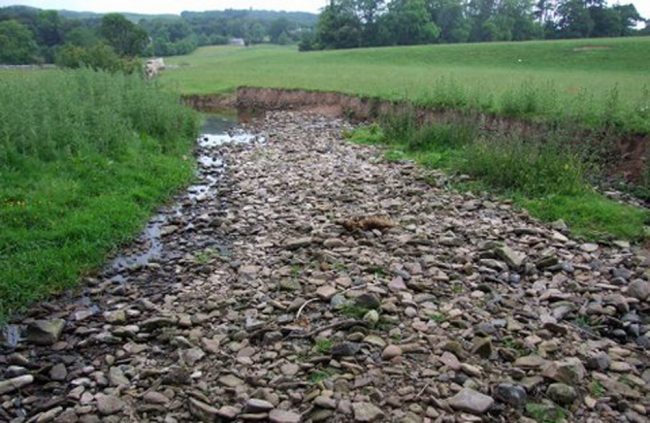 The Doon DSFB asked the Trust to arrange for fencing to be erected where it was most needed throughout the catchment and for the last 2 years we been working to arrange this. The board agreed to fund up to 40% of the cost of the fencing making it perhaps the most attractive grant available to farmers, especially as they are required to protect water margins and prevent erosion, poaching of land and and diffuse pollution (General Binding Rules 19 & 20). The Doon is a priority catchment under SEPA's diffuse pollution initiative and therefore was badly in need of improvement to meet and protect bathing water standards along the Clyde coast.
It's no easy task to secure agreements from farmers to spend money on fencing in difficult financial times but we have had reasonable success with this and several problem areas have been fenced over the last couple of years.
This season will see a large area of woodland along the main river fenced.  The woodland is frequently heavily poached by cattle and it's condition suffers. Cattle have access to the river through the woodland and diffuse pollution issues are obvious. Around 800m of fencing will be installed and this will not only protect the water course but also a mature woodland. Hopefully we will see young trees survive to replenish the canopy in future. Fencing should start in the next month.
At Minishant, another tributary will receive a repair to a fence erected by the board around 10 years ago. This fence was flattened by high winter spates in 2015.  Further upstream, work to stabilise bankings will continue at Culroy and Sauchrie. By the end of May these areas should all be fenced with no livestock access remaining and the banks should quickly stabilise. Erosion is the most significant feature where livestock access this burn and tonnes of fine sediment have ended up in the burn coating  spawning gravels and reducing productivity.
We've been working on this burn for some time now and things are beginning to improve. Another improvement came as a result of the exceptional spates in November 2015 and this was the bypassing of a weir that prevented some fish continuing their upstream migration. It wasn't a total barrier but it was a substantial obstacle that was passable only at certain flows. The burn removed trees and cut a new channel around the weir during one exceptional spate and the results have been incredible.
Sediment transport has been restored downstream and the upstream impounded water has gone and with it tonnes of silt that choked the river bed. Run and riffles have been restored and the river is behaving naturally again with gravel side bars developing.
We assisted by removing some woody debris that we thought problematic and contributed to erosion but on the whole, removing timber should be only done with great care as it often more beneficial to leave it in place. We can advise on this if anyone needs assistance. It has to be stressed that care is required to prevent habitat damage.
Muir and I revisited the stretch in the lower burn today and I've put together a few before and after photos to illustrate the improvements we see taking place.
Source: Ayshire River Trust – Fencing and improvements on Culroy Burn