The West Coast Tracking Project is an ambitious attempt to understand the marine migratory distribution of Atlantic salmon across the west coast of Scotland. The information arising from this project is vital to inform efforts to protect wild Atlantic salmon during the early phase of their marine migration.
Fisheries Management Scotland, Atlantic Salmon Trust, and Marine Scotland Science are working in partnership to deliver this large-scale project, with the ultimate aim of supporting wild fish populations. The project is governed by a steering group comprising these three partners to ensure an independent and scientifically robust approach.
Information about wild salmon migration patterns will contribute to our understanding of, and ability to manage, interactions with marine developments such as fish farms and marine renewables. Our goal is to inform policy and regulation and the information arising from this work will feed directly into the spatial planning framework now under development by Scottish regulators.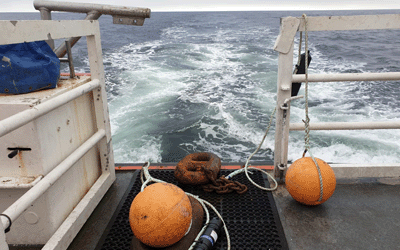 The distribution of smolts at sea depends on a combination of their swimming behaviour and the ocean currents, and this information can be combined with models (such as Marine Scotland's Smolt Migration Model) to make predictions of where the fish go under different conditions. It is important to understand how the smolts are actually distributed at sea to determine their likely swimming behaviour, which we know very little about. This improved understanding of the smolts likely swimming behaviour can be used to improve these models and better inform planning and licensing of marine developments to provide better protection for smolts during their early marine migration.
Watch a summary of the preliminary results from Year One of the project:
Funding
The project is funded via the Scottish Government's Maritime and Fisheries Fund, and significant private and industry contributions, including from the salmon farming industry. The project is also supported by huge voluntary contributions of time and resources across the West Coast of Scotland. The funding profile for this work can be viewed on the Atlantic Salmon Trust website.
All funds for the project are restricted – meaning that they can only be used for the West Coast Tracking Project and not for other purposes. There are no formal or informal agreements with any external members or industries that dictate, influence or restrict the design or results of this study, or the activities of any of the project partners. It is important to emphasise that the project design and deployment of equipment are governed by the project steering group comprising of Marine Scotland, Fisheries Management Scotland and the Atlantic Salmon Trust.
Along with our partners, we are looking forward to delivering the results of this project as quickly as possible and are aiming to share preliminary results before the end of 2021.