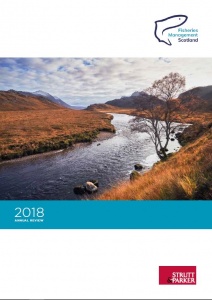 The Fisheries Management Scotland Annual Conference, will take place today at Battleby Conference Centre. Our Conference, 'Nurturing the next generation' will explore and encourage sustainable and long-term solutions to the environmental and economic challenges facing our salmon and freshwater fish stocks.
Dr Alan Wells, Chief Executive of Fisheries Management Scotland said: "Our conference provides a unique opportunity to present the breadth and depth of work that Fishery Trusts and District Salmon Fishery Boards make across Scotland to fisheries and environmental management and protection. Fisheries Management Scotland, and our members, are recognised as the expert, valued and positive influence on all matters related to the evidence-based management of fish and fisheries.
"We are delighted to welcome contributions from Marine Scotland Science, the Atlantic Salmon Trust  and Tina Kraft, who has travelled from Sweden to share her experience of getting more people, from all ages and walks of life, involved in angling."
The Conference will also mark the launch of the 2018 Fisheries Management Scotland Annual Review. The review highlights the work of Fisheries Management Scotland and our member DSFBs and Fisheries Trusts. Catch statistics for the 2017 season, as well as river reports from across Scotland form a substantive element. The Review, sponsored by Strutt & Parker, is now available online and in hard copy.