The Chief Constable of Police Scotland, Phil Gormley today opened the annual Bailiffs' Seminar. This event is organised by Fisheries Management Scotland and the Institute of Fisheries Management. Chief Constable Gormley's attendance demonstrates the importance that Police Scotland place on the work of fisheries enforcement officers in Scotland.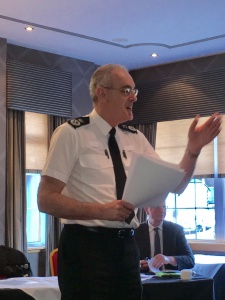 Brian Davidson, Fisheries Management Scotland, said:
"Fisheries Management Scotland are delighted to welcome the Chief Constable to this important event. This is a hugely encouraging demonstration of the value that Police Scotland place on our network of water bailiffs in Scotland. A highly trained and professional network of water bailiffs is crucial to the protection of Scotland's iconic salmon and freshwater fisheries".
Jim Henderson, Nith District Salmon Fishery Board, said:
"It is important to recognise the wider impacts of fish poaching. One of the most common illegal methods of catching fish are indiscriminate gill nets. These invisible nets not only kill fish, but also other wildlife, such as otters, marine mammals and birds. This underlines the need for a strong collaborative approach between bailiffs and police on not just fish crime but wider wildlife criminal activity."
Simon McKelvey, Chair of the Institute of Fisheries Management (Scottish Branch) said:
"Training and professional development is front and center of our remit in Scotland and an important element of the seminar. This provides a reciprocal benefit for Police Scotland and our delegates to exchange information and develop training to meet the needs of fisheries management and enforcement.