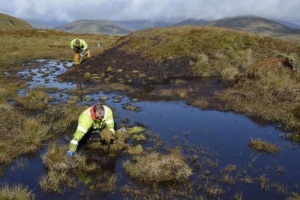 They cover more than one fifth of the country and are vital in protecting communities from flooding as well as providing a home for many native species.
Now Scotland's peatlands are returning to health after years of decline after an £8million investment saw many ailing sites restored.
The money is part Scotland's National Peatland Plan and has already helped put more than 10,000 hectares of Scotland's degraded peatlands on the road to recovery.
Scotland is home to around 60 per cent of all the UK's peatlands and they are globally recognised for their biodiversity, supporting rare moorland breeding birds and unusual plants, such as the Insectivorous sundew and butterworth.
Formed over thousands of years, they are also one of the nation's most important natural assets in terms of the ecosystem services they provide. As well as offering a home for nature, bogs play a key role in water quality and flow and in a healthy state, peat is an essential weapon in the fight against climate change, acting as a massive sink for greenhouse gases.
But when damaged they can release huge quantities of carbon dioxide into the atmosphere.
Now a further 8,000 hectares of damaged peatlands are starting on the road to recovery after the £8 million in extra funding from the Scottish Governmentfor the national Peatland Action scheme.