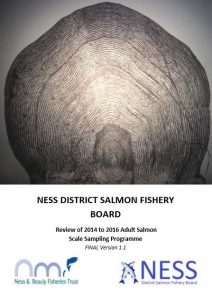 The Ness District Salmon Fishery Board (in partnership with the Ness and Beauly Fisheries Trust) has been working with ghillies and anglers across the Ness system to collect scales from fish as part of a fish ageing study.
Scales can be removed without sacrificing the fish and grow back rapidly. They exhibit growth rings, similar to those found in trees. These rings are formed annually, as a result of seasonal fluctuations in growth, and can be used to give an indication of the age of a fish.
Scale samples were submitted from a total of 223 adult salmon captured between 2014 and 2016 – equating to seven per cent of the total salmon catch for the period (3,136 fish).
A report presenting the findings of the first three years of the study can be downloaded by clicking on the cover image above. We would like to increase the number of samples taking during the 2017 season, particularly on the River Ness and Loch Ness. If you would like to help, then please contact us at ceo@ndsfb.org
Source: NESS DSFB – How old are Ness salmon?