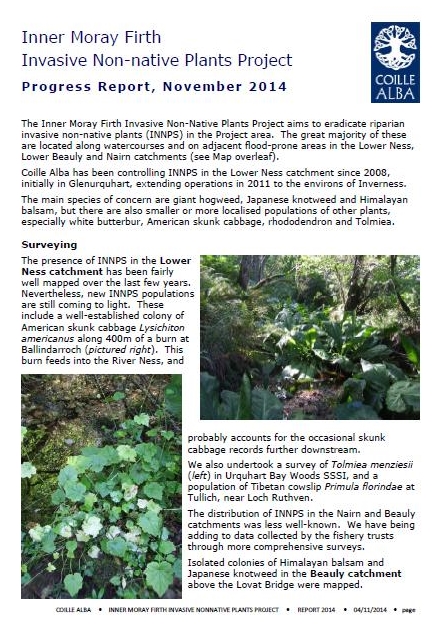 The Inner Moray Firth Invasive Non-Native Plants Project aims to eradicate riparian invasive non-native plants (INNPS) in the Project area. The great majority of these are located along watercourses and on adjacent flood-prone areas in the Lower Ness, Lower Beauly and Nairn catchments. 
The Ness and Beauly Fisheries Trust sits on its steering group, together with representatives from other fisheries trusts, Scottish Natural Heritage, Urquhart Bay Woods and Highland Council. Coille Alba (who are leading the project) has been controlling INNPS in the Lower Ness catchment since 2008, initially in Glenurquhart, extending operations in 2011 to the environs of Inverness.
The main species of concern are giant hogweed, Japanese knotweed and Himalayan balsam, but there are also smaller or more localised populations of other plants, especially white butterbur, American skunk cabbage, rhododendron and Tolmiea.
The latest progress report can be viewed by clicking on the photograph below.
Source: Ness and Beauly Org – Inner Moray Firth Invasive Non-native Plants Project – Update