Yesterday (7th January) Fisheries Management Scotland and Scottish Land and Estates jointly hosted a roundtable discussion and evening reception in the Scottish Parliament to address a looming crisis in wild Atlantic salmon stocks. Environmental change, and a range of human impacts across the Northern Hemisphere are placing salmon at risk across their natural range and the event explored what can be done to reverse this trend and ensure a healthy future for Scotland's iconic salmon.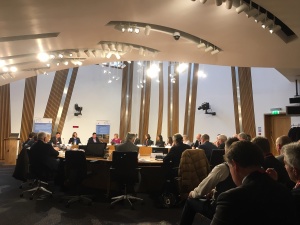 MSPs, fisheries managers, NGOs, ghillies, anglers and a range of national stakeholders participated in the event, which was sponsored by Michelle Ballantyne MSP, the species champion for Atlantic salmon.
The opening address was given by Environment Secretary Roseanna Cunningham, who announced £750,000 for a major project between the Scottish Government, Atlantic Salmon Trust and Fisheries Management Scotland. The project will track salmon smolts from a number of rivers on the west coast of Scotland with a view to improving our understanding of migration routes.
Dr Alan Wells, Chief Executive of Fisheries Management Scotland said, "We welcome the announcement of this funding and are very grateful for the support for this important work. Understanding the migratory pathways used by our juvenile Atlantic salmon smolts has been recognised for many years as an important knowledge gap in our management of this iconic species.
"This programme of work will complement the work we are doing through the Salmon Interactions Working Group, to deliver a reformed regulatory regime for salmon aquaculture, in line with the recommendations of the Scottish Parliament Rural Economy and Connectivity Committee.
The agenda for the roundtable discussion can be viewed on our website. A note of the meeting is being prepared and will be placed on our website in due course.