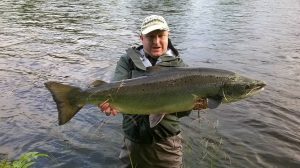 The conservation status of the Ness system for next season has been changed following discussions between the Ness District Salmon Fishery Board and the Scottish Government.
It was announced in September that, for the second year in a row, the entire Ness District would be in 'Grade 3' – meaning every salmon caught had to be released.
But Chris Conroy, Director of the Ness board, revealed: "The Scottish Government have listened to our representations to the extent that from July next year the majority of Ness waters will rise to 'Grade 2', allowing limited exploitation of the salmon stock.
"The exception is the River Moriston, a Special Area of Conservation, which will remain Grade 3 throughout 2017.
"This is excellent news for all anglers, locals and visitors alike, and for businesses dependent on the sport.  The amendment comes after extremely constructive dialogue with the Scottish Government."
The Scottish Government had ruled that, because fish destined for the Moriston pass through, and risk capture and killing, in the wider waters of the Ness district,  no fish caught could be retained anywhere in the district to protect the Moriston's fragile stock.
Ness District Salmon Fishery Board lodged an objection.  They flagged up the potential damage to the socio-economics of the rod and net fishery in their area and that they had technical concerns regarding the approach used to assess the Moriston's conservation status.
The Scottish Government have now agreed that Grade 3 will remain until June 30, to protect 'spring' salmon and early running grilse destined for the Moriston.  From July 1, it will remain mandatory that all fish caught in the Moriston conservation area must be released – but the River Ness, Loch Ness and the rest of the district will be changed to Grade 2, allowing a limited number of fish to be caught and retained.
A new conservation policy will be put in place by the Ness Board to meet the requirement for reduced exploitation in Grade 2 waters.
Mr Conroy said: "It is highly encouraging that our representations have met with an open minded approach. Angling sustains or contributes to hundreds of jobs in our area and this amendment will be very warmly received.
"Going forward, we are committed to working with the Scottish Government to refine the methodology which has been used to assess the status of the Moriston special area of conservation. However, we recognise that this is a technically complex issue which may take some time to resolve."
Source: NESS DSFB – Ness anglers 'off the hook' next summer as conservation grading is changed