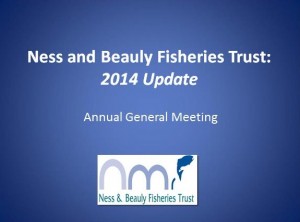 Thank you to all those who attended the Ness and Beauly Fisheries Trust's 2014 AGM this afternoon. Those of you who missed it can view the Trust Director's presentation on the latest activities of the Trust by clicking on the image below.
Further detail regarding the individual projects referred to in the presentation can be found on the 'Projects' page of this website.
Ness and Beauly Fisheries Trust relies largely on donations and grants for its income. If you would like to support our works then why not become 'Associate Member', 'Life Member' or alternatively make a one off donation on our 'Support' page.
Source: Ness and Beauly Org – Ness & Beauly Fisheries Trust 2014 AGM Presentation