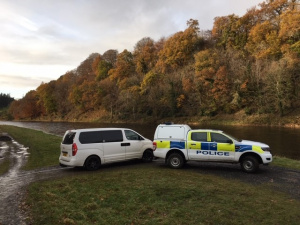 Today sees the launch of the poaching phase of Operation Wingspan, Police Scotland's year-long commitment to raising awareness of the seven priorities of wildlife crime.
Fisheries law enforcement is a key policy priority for Fisheries Management Scotland and it's member district salmon fishery boards who work closely with Police Scotland to prevent and detect illegal activity. Investigating such wildlife crimes can be demanding, difficult and complex – Operation Wingspan will provide a focussed opportunity to pool resources and collaborate between agencies to help address fish poaching pressure on Scotland's vulnerable fish stocks.
Fisheries Management Scotland, a member of the Missing Salmon Alliance – a group of conservation-focused organisations which have come together to drive action and save our wild Atlantic salmon. Members of the Alliance are involved in a range of initiatives to protect and enhance our wild salmon. Efforts to reduce poaching, and therefore ensure that adult salmon can survive to spawn, make a vital contribution to the work of the Alliance.
Recent Police Scotland data has shown a trend in increased illegal fishing activity, with the COVID-19 pandemic being a contributory factor in a 282% increase in fish poaching during 2020. It is likely that opportunistic criminals took advantage of a reduction of angling activity on rivers due to lockdown travel restrictions, and the resultant surge of visitors to the countryside following the easement of COVID-19 lockdown restrictions also had an impact.
Members of the public are asked to remain vigilant to suspicious activity on Scotland's rivers and lochs and should they witness any activity then it should be reported to Police Scotland via 101 or through their local district salmon fishery board.
Brian Davidson, Director of Communications & Administration at Fisheries Management Scotland said, "Salmon catches in Scotland in recent years are at the lowest levels ever recorded. Figures for 2020 show that the reported rod catch of salmon is the third lowest since records began, with the catch of sea trout the lowest since records began. Whilst this data relates to a period in which all rivers were closed to angling due to the COVID-19 public health crisis, the trends still confirm this iconic species is approaching crisis point."
"Fish poaching is a widespread and highly damaging wildlife crime activity. We are pleased to be an integral part of Operation Wingspan and working closely with Police Scotland and our members to address fish poaching at a particularly challenging time for the species."
Dr Keith Williams, Director of the Kyle of Sutherland District Salmon Fishery Board said, "River managers and anglers are making a huge effort to ensure that the reduced number of adult salmon returning to our rivers have the best possible chance to spawn successfully. Returning adult salmon have already successfully negotiated a range of challenges at sea, and any loss of these precious fish to illegal poaching is tragic and reduces the chances of sustaining Scotland's salmon populations into the future."