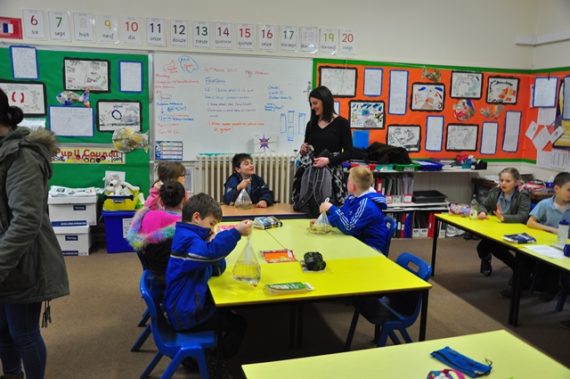 The 'Salmon Go To School' project, led by the Spey Foundation and the Spey Fishery Board, gives pupils a fascinating insight into the ecology of salmon and other fish species.  It also explains the importance of fishing to the local community, through a range of hands-on practical projects.
The Primary schools which participated this year were Grantown, Newtonmore and Kingussie.  This year the pupils at each school received an illustrated talk by John Trodden, a retired Head Teacher of Millbank Primary School in Buckie and a member of the River Spey Anglers Association, who kindly volunteered to deliver the project.  He said, "I really enjoyed working with the pupils and found them to be very enthusiastic about looking after their fish. I thought they were very responsive and I was very impressed by their knowledge of the local area and wider afield. They also demonstrated good awareness of the importance of the River Spey to the local economy."
The pupils took charge of a classroom hatchery with around 250 salmon eggs, assisted by Steve Burns, Assistant Biologist. Good husbandry is essential for the success of the project and in each school the pupils had to look after the eggs, ensuring that the water temperature remained cold. Each school successfully hatched their valuable offspring and studied their development from salmon egg to fry, when they were ready to be released back into their natural environment in the local burn.  Foundation staff will return in June to  the area where the salmon were released and to show the pupils how much they have grown through electrofishing.
Salmon in the Classroom at Grantown Primary
Grantown Primary Pupils with their salmon
Grantown Pupils releasing their salmon
Assistant Biologist, Steve Burns and John Trodden give Kingussie Pupils a lesson on the life-cycle of the salmon
Kingussie Primary pupils ready to release their fry
Salmon fry about to be released
John Trodden giving a lesson to the pupils at Newtonmore Primary school
Newtonmore Pupils about to release their fry …
….and away they go!
Grantown Primary School teacher, Patricia Brown said, "The children were very inspired by having a Salmon Hatchery in their classroom. They produced extra high quality work due to having direct hands-on experience looking after the fish. "
One of the many Thank You letters received from the pupils
The project offers a great opportunity to teach the youngsters about what goes on in their rivers and also helps people understand the Spey Foundation and the Spey Fishery Board's role in protecting and managing the resource of the River Spey. The Spey Fishery Board are very grateful to support for this project from Walkers Shortbread and to John Trodden and the River Spey Anglers Association.
The post Salmon Go to School Project 2017 appeared first on Spey Fishery Board.
Source: Spey Fishery Board – Salmon Go to School Project 2017