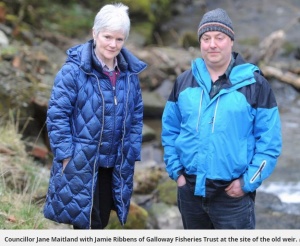 The king of fish has made a remarkable return to a Stewartry burn after an absence of almost a century. Spawning salmon had been blocked from moving up the Old Mill Burn by a disused weir at the former Tarff Creamery at Twynholm.
But in autumn 2016 the 12-foot high barrier was removed in a radical plan to open up the waterway. And now investigations by the Galloway Fishery Trust (GFT) have found salmon above the site for the first time in generations.
Other species such as sea trout, eels and lamprey have also appeared in the newly opened 10km stretch of healthy river habitat upstream.