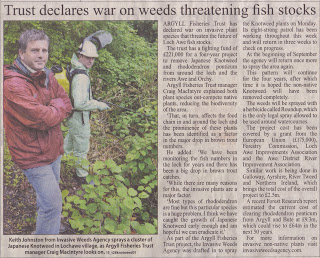 Congratulations and welcome to Daniel Brazier, who is our new Assistant Fisheries Biologist. Danny hails from Orkney, so even Argyll will seem like a bustling metropolis to him. Danny started with us on Monday 5th September and we're sure he'll fit in with the team well. A short bio and photo will appear on the website soon.
Argyll Fisheries Trust was in the Oban Times recently promoting our project that is controlling invasive non-native plants around Loch Awe and her rivers. We've just approved a new contract for control of Rhododendron ponticum on the west side of Loch Awe, so expect to see contractors out doing the business there soon. Apologies for the drowned-rat look in the photo, but it was very wet that day.
Speaking of which, the weather has been frustrating our fieldwork efforts recently. We've had very heavy rain which has left us office bound and means that our fieldwork is starting to stack up. The rains may have been good news for all the anglers in Argyll, but ain't so good for us poor biologists.
Argyll Fisheries Trust would like to say a big thank you to Awards for All Scotland, who gave us a grant of £10,000 for the purchase of new electrofishing equipment. Our old kit was spending more time in the repair shop than in the field, so the new kit is a very welcome addition. Now, if only the rain would stop for a while we might be able to use it…
That is all.
Source: Argyll Fisheries Trust – September News