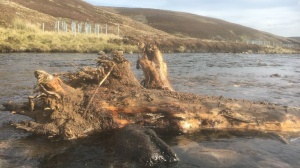 River project will see 24 trees placed into the water to create a salmon-friendly environment. The project in the Cairngorms will see two dozen trees blown over by high winds lowered into a 2.7km stretch of the River Gairn, a tributary of the River Dee.
Once in the water, their roots provide a refuge from predators and a place where young fish can be safely spawned. The project follows a successful trial in a section of the Gelder Burn last year.
Edwin Third, operations manager for the River Dee Trust, said: "Trees create a much better fish habitat. The river is too wide and shallow at present.
"Salmon need variety and diversity. The tree roots provide refuge from predators and deep pools when the water temperature gets too hot – like this summer."
The trust has also planted 130,000 trees on the banks of River Dee tributaries to provide cover and shade.
Mr Third added: "Atlantic salmon numbers in Scotland are very poor, so we need to do everything we can to make their habitat better so we can produce more in the future. Hopefully what we're doing will help produce not just more salmon but healthier, more productive salmon and they should give us better returns in the future."