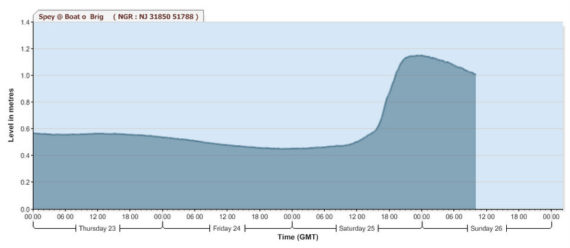 Last week's weather forecast was fairly accurate as far as it went, what I failed to mention was the wind. The wind on Tuesday and Wednesday made fishing unpleasant on some beats, or parts of beats. This week we will have some rain this afternoon and evening, but it should be reasonably dry till next weekend. Temperatures hover around mid single figures dropping close to or just below zero most nights. The wind is forecast to remain light. There is another named low expected but hopefully Ewan will cause as few problems as Doris. The river rose this weekend but is already starting to drop back and hopeful;;y the turbidity will have cleared by Monday. The tides peak mid week.
I had an interesting report on Monday when Neil Borthwick sent me pictures of a kelt he caught earlier in the day. What was interesting was that it had been fin-clipped. Neil judged that it would have weighed somewhere between 6-7lbs when fresh. The question of course is this a fish clipped from the Spey Hatchery?
It was said that in 2016 any fin-clipped fish returning would have been grilse. Looking at the Salwrd Calculator at http://www.speyfisheryboard.com/salmon-age-calculator and putting in a weight of 7lb with a date of August 12th there is a very strong possibility (99.68%) that this fish returned as a grilse. http://www.mathstat.strath.ac.uk/outreach/salwrd/calculator/index.php If any one wishes they can play around with dates and weights.
If this speculation is correct it shows that hatchery fish are quite capable of making to the feeding grounds and back and managing to spawn and survive, what next a multi-spawner?
Neil did very well to notice the fish was clipped, I have just been returning my kelts with hardly a second glance. Can I ask everyone to check and if clipped try to take a scale or fin sample so the scientists can tell a little more.
Catches: The average catch for the Spey in February is around thirty fish, we are pretty close to this.
Ian Tennant tells me that again the Brae Beats had a couple of fish landed. Alex Robertson was one of the lucky anglers (skilful?)  and sent me this photograph, a beautiful fish from the Ewe Pool Beat 2.
Upstream I hear that Orton got their season under way and finished the week with at least four landed. Kinchurdy Gillie Bobby Hall ventured north and was rewarded with this fish on Saturday.
Rothes continued to pick away with members of the Gordon Angling Group continuing to catch fish. Graham Ritchie had this one from Burnmouth on Monday.
Upstream I hear that Delagyle had another but have no more details.
Ian Borthwick fishing on his own at Carron had their first of the season from the Bridge Pool on Thursday.
Grantown are still waiting for their first fresh fish of the year, there are plenty of kelts about and hopefully this lift of water might take a few fresh ones up there.
The post Week Comencing 20th February 2017. appeared first on Spey Fishery Board.
Source: Spey Fishery Board – Week Comencing 20th February 2017.