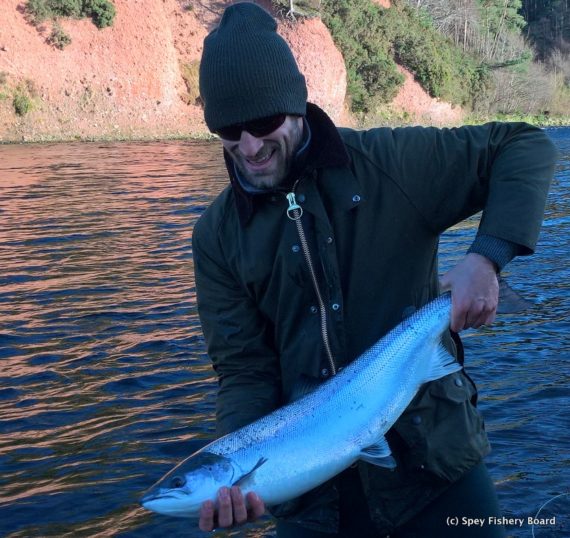 Again last week's forecast was reasonably accurate as far as it went, but once again I forgot to forecast the strong winds that made fishing extremely difficult on Tuesday and Thursday.   The rain at the end of the week pushed the river up on Saturday and most beats started to quieten down. The river rose sharply late on Saturday night but is now beginning to drop back. The forecast for the coming week will be considerably colder than recently. On Wednesday temperatures will struggle to become positive with any precipitation falling as snow. There is a chance of more snow on Thursday night before temperatures reach double figures again at the weekend.
The tides do not start to build again till midweek.
Catches: Just about all beats from around Grantown to the sea recorded fish this week and there were so big ones caught as well. Unfortunately most of the photographs I have received do not do these big fish justice.
The Gordon Castle beats had four including one estimated at 28lbs. Local angler Ivor Bailey within his first few casts caught this fish from the Rock Pool on Brae 2. I also received this picture of Tom Maplethorpewith his first ever salmon. Thanks to Ian Tennant for the updates and pictures.
I hear Orton are continuing to catch fish but have few details.
Delfur had another good week and as usual I have to thank Mark and his team for their photographs. Their excellent run of a fish every day came to an end after ten day in the abysmal conditions on Thursday.
Rothes continued to fish well, when conditions suited. Monday Wednesday and Friday all had four fish whilst the days round about were blank on nearly so. Mrs Evie Glass continued her excellent season with a 20lb fish from Burnmouth. The Gordon Group has now finished their Rothes let and are delighted with their catch of thirty fish.
Arndilly also had a good week with around eleven landed. John Veich's party sent me a couple of pictures. The best fish of the week was caught earlier in the week by Noel Hainey at 20lbs.
Craigellachie had a couple and Dougie Ross sent me this picture of Eamon Power.
Across the river Macallan finished with at least four including a 25lb fish from the Tunnel Pool. Steven Watt was kind enough to send me a picture of one of his fish taken from the Greenbank.
Aberlour Angling Club had a great week with at least eight landed. Visiting Angler Lyn Sutherland had a couple, including this one estimated at 25lbs. Local Rob Morrison had three including a monster estimated at 30lbs.
Kinermony had three on Thursday, a couple pictured below.
Wester Elchies also had a good week, with two on Monday and then another two later in the week. Mungo Ingleby got his usual large fish from the tail of the Rhynd.
Carron, though lightly fished continued to pick away. I was pleased to receive a photograph of Neil Borthwick with a 2017 salmon, unfortunately he was only acting as gillie and has yet to catch his own yet!
I hear Tulchan had a few fish but have no details.
Lionel Main told me they had at least three fresh fish with as many lost .
The post Week Commencing 13th March 2017 appeared first on Spey Fishery Board.
Source: Spey Fishery Board – Week Commencing 13th March 2017