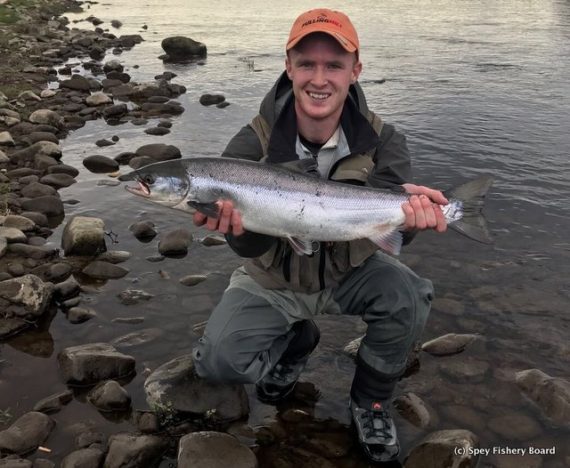 Last weeks weather forecast was not even close! It was bright and windy all week, pretty horrible fishing conditions. The coming week is to start with some rain; the river needs a rise. Temperatures are to be lower as well, struggling to make double figures, much more like fishing weather, if accurate. Wednesday is expected to be the breeziest. The tides are building all week.
The gene tree is beginning to blossom and the rowan; birch and sycamore are coming into leaf. The Cuckoo Flower and Sweet Cicily are out on the riverbank. No sign of the sandpipers yet, I am beginning to worry. My blue tits are starting to nest; it won't belong till I can bore you with photographs from the nest!
Catches: Considering the weather conditions the river fished reasonably well. I always think it is difficult when you get May weather with April numbers of fish in the pools.
Gordon Castle started the week with a bang, with six on Monday. They finished the week with around a dozen. Ian Tennant tells me he believes the recent boost in numbers is purely down to the numbers of anglers fishing their beats. Ian kindly sent some pictures of his successful anglers.
I hear Orton had a 14lb salmon on Wednesday on a size 14 Greenwell's Glory perhaps I need to re-think my tactics.
Delfur had a quieter week than of late.
Rothes continued to fish well, the Turtle party, long-term tenants finished with six landed. Grant Turtle sent me a selection of pictures; Paul Simpson's fish was a touch camera shy and Paul with have to settle for a picture of his fish  in the net.
Craigellachie had a memorable week. James Watt had three to his own rod on Friday. On Saturday Jim Flemming had his largest Scottish salmon estimated at 30lbs from Upper Slabs. Many thanks to head gillie Dougie Ross for taking the time to keep me updated.
Aberlour Angling Club continued their excellent start to the season, with both visitors and locals catching fish. Pictures  from Kenny Davies.
Kinermony had 5 as did Wester Elchies.
I hear Delagyle had another large fish on Saturday but have no more information.
I was lucky enough to be invited fish at Carron we finished with three.
Laggan did much better with the Douetil party landing six I hear.
I also heard of fish from, Knockando, Ballindalloch and Tulchan but have few details.
Graham Ritchie was kind enough to send me a picture of his fish from Castle Grant Beat 1
I also hear that Grantown had three possibly four fish, at least one each from the Long Pool and Poll Caich.
Those who study the photographs closely will have noticed that some of the fish have signs of UDN. The Spey unlike other rivers have never tried to hide the fact that some fish are showing signs of UDN. Brian Shaw has asked me to remind anglers to take great care handling salmon. Warm, low water, and relatively high numbers of fish in the pools can quickly lead to outbreaks of saprolegnia. This is the white, cotton wool looking fungus, which kills the salmon rather than the primary UDN.
The post Week Commencing April 3rd 2017 appeared first on Spey Fishery Board.
Source: Spey Fishery Board – Week Commencing April 3rd 2017