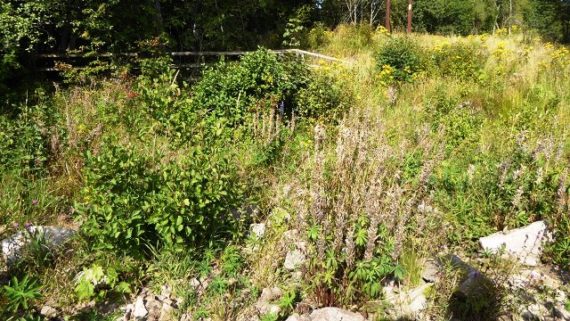 One of the last activities of the Pearls in Peril project was to deliver a side channel reconnection project in Aviemore. The Spey has many disconnected side channels, most of which only flow during spate conditions. That was very much the case with the Aviemore side channel where the upstream opening had been blocked around 1992 by the placement of substantial quarry rocks. In anything other than high flows the Aviemore side channel was virtually stagnant; a distinctly unattractive backdrop for the local residents whose gardens extended down to the river.
The side channel is over 500m in length so there was considerable scope for habitat enhancement. The proximity of residents presented other challenges; reassurrance was required that the proposed works would not increase the risk of flooding or bank erosion. Community engagement was an important aspect of this particular project.
The project design was by Envirocentre with local contractors McGowan Ltd awarded the contract. With the Spey being designated an SAC the works had to be done to extremely high environmental standards. River works are not normally permitted to occur at this time of year but the only instream works involved were the removal of a few of the blocking rocks prior to the installation of a sandbag dam to keep the site dry.
The side channel was reconnected with the river by the installation of twin culverts, set at the appropriate height.
This has been a very successful project, ably managed by the PiP team, coordinated locally by Liz Henderson of the Spey Catchment Initiative, and Duncan Ferguson of the Spey Fishery Board. Liz even made it onto Radio Scotland at the weekend. We look forward to assessing how the channel develops over time. And to securing funding for the many other side channels that could be reconnected with potentially great benefits for all river life. The role of the landowner, Seafield Estates, in their assistance with, and the delivery of this project, should be acknowledged.
The post Aviemore community reconnected with the Spey appeared first on Spey Fishery Board.
Source: Spey Fishery Board – Aviemore community reconnected with the Spey