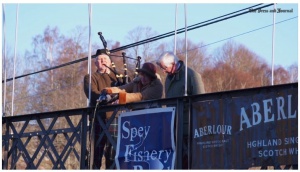 Hundreds of anglers gathered on the banks of the fast-flowing River Spey to open this year's salmon season.
An entire bottle of 16-year-old whisky from Aberlour Distillery was poured into the torrent yesterday to celebrate the occasion in the village.
Within seconds, the first fishermen were wading into the river from the snow-covered Alice Littler Park to be the first to catch a salmon in 2018.
During the ceremony, Reverend Bob Anderson blessed the Spey and all those who earn their living off it in the hope of a successful season.
Evelyn Grant, from Fochabers, had the honour of emptying the bottle of malt into the river after catching the first salmon last year while piper Alan Sinclair saluted.